Learn How to Navigate Communications in the Digital Age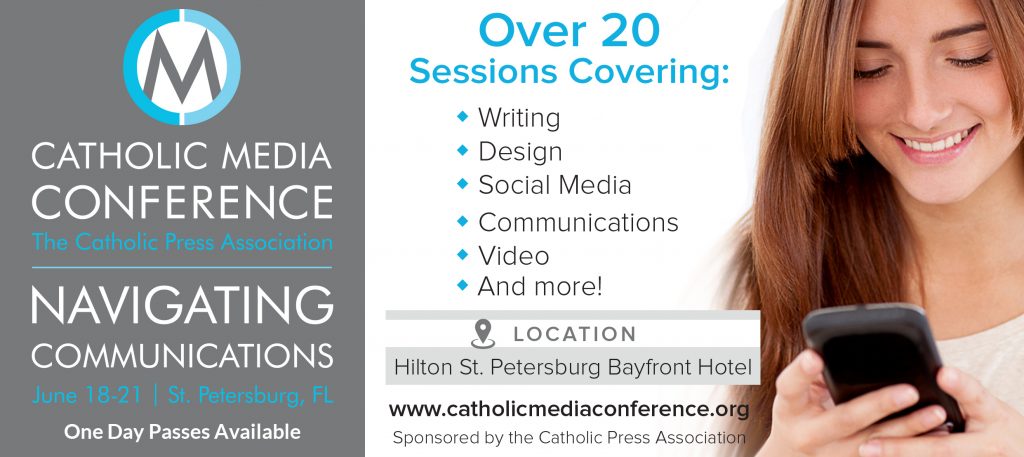 Catholic communicators are invited to attend the Catholic Media Conference at the Hilton St. Petersburg Bayfront Hotel June 18-21, 2019. The theme is Navigating Communications and the sessions are designed to provide a roadmap for our rapidly changing media culture.
"How people communicate is changing and in order to fulfill the mission of the Church, we need to change too. We need to reach people where they are and harness the technology and the tools for the proclamation of the Gospel," said Teresa Peterson, Executive Director of Communications for the Diocese of St. Petersburg and Chair of the Local Planning Committee.
The Conference will offer workshops that are beneficial to parish and school communication representatives, covering topics such as design, social media, video, websites, podcasting and digital discipleship.
Participants can expect to discover new ideas, hear from colleagues who will share success stories and learn new skills. Hundreds of communication professionals from around the country will participate. The 2019 Catholic Media Conference is organized by the Catholic Press Association, a group of publishers, editors, communicators and producers who all minister in the Catholic Church. A key part of the conference will be an opportunity for prayer. The participants gather for daily Mass and seek to support and encourage each other in prayer, both at the conference and beyond.
This is the first time the Diocese of St. Petersburg is hosting the Catholic Media Conference. Participants can register to attend one day or the entire conference. In addition to the workshops and keynote presentations, the Conference includes two awards banquets: the Gabriel Awards for broadcasters and the Catholic Press Awards for publishers and communicators.
To learn more and to register, visit www.catholicmediaconference.org.