New Family Ministry at St. Stephen is a Success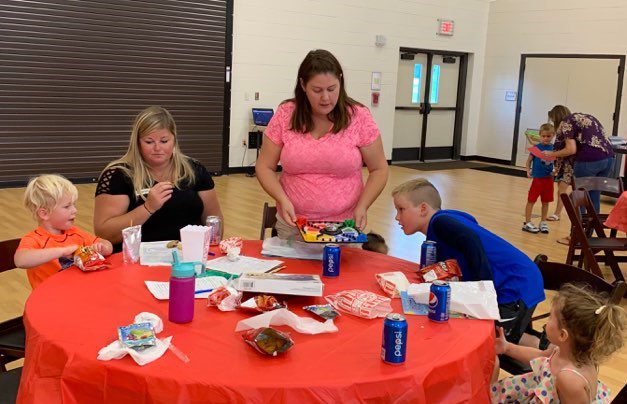 "Grown in Love, Strengthened by Faith and Protected by the Loving Hands of Jesus Christ" is how St. Stephen Parish in Riverview is describing their new Family Ministry that started as a response to the diocesan vision, Courageously Living the Gospel.
Anthony & Cindy Basilicato, parents of two young children, are leading the initiative and have helped organize the first two Family Ministry Nights with the help of seven core families that were invited to volunteer.
"It was easy recruiting people to volunteer because they saw the need. We have lots of families and we have been discussing ways for Catholic families to hang out together, to meet each other," said Anthony.
The Family Ministry Night is an opportunity for families to come together to socialize and to learn about the faith in a fun environment. More than 150 people attended the June 29 event and about 100 attended the July 27 gathering.
At the July event, planners organized a scavenger hunt. Families interviewed other families to "find" ministry volunteers, such as altar servers and catechists and asked them why they enjoy serving the Church. Families also have an opportunity engage in acts of service at each event.
In July, the families wrote cards for seminarian Kenny Keenan who recently finished his summer internship and they signed up to pray for him over the coming year. In June, families were asked to bring a food donation for the St. Vincent de Paul food pantry.
Events like this help to build a strong network of Catholic families while providing activities for spiritual growth in a fun-filled environment. The event targeted families from public, private and home-schools. All were welcome.
"We have a lot of new younger families and we need to reach out to them," said Father Dermot Dunne, pastor. "I hope the Family Ministry gatherings continue to be a simple evening where families can get together for fun and faith and be with each other. It's a good way to let the children run and play games in a safe environment."
As part of their pastoral plan for Courageously Living the Gospel, the parish is planning to expand the number of events that engage parishioners, including a "meet and greet" social event. They also plan to establish small faith communities.
One of the goals for Courageously Living the Gospel, diocesan-wide, is that all parishes will enhance or establish family ministries to respond to the diverse needs of families by Pentecost 2020.