Newly Inspired Missionary Disciples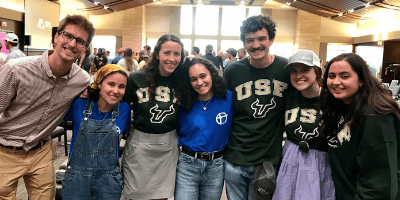 Two University of South Florida students, Elizabeth Cottle and Amelia Becerra, spent five weeks of their summer in Saint Paul's Outreach (SPO) Leader Internship program in Minnesota. The Leader Internship program is a one-month immersion experience to equip students for lifelong mission on campus and beyond. After the program, participants are ready and equipped to take on leadership roles within their campus ministry and to invite others into the life of Christ in the context of their campus community.
Cottle is the USF Catholic Student Union's (CSU) incoming president and Becerra is the incoming Vice President. After their intensive summer training, they both said they are ready to bring what they learned and experienced back to the CSU.
Becerra described the beginning of their experience as a "culture shock" and overall, a "very crazy time" since interning at SPO had their schedules booked every day.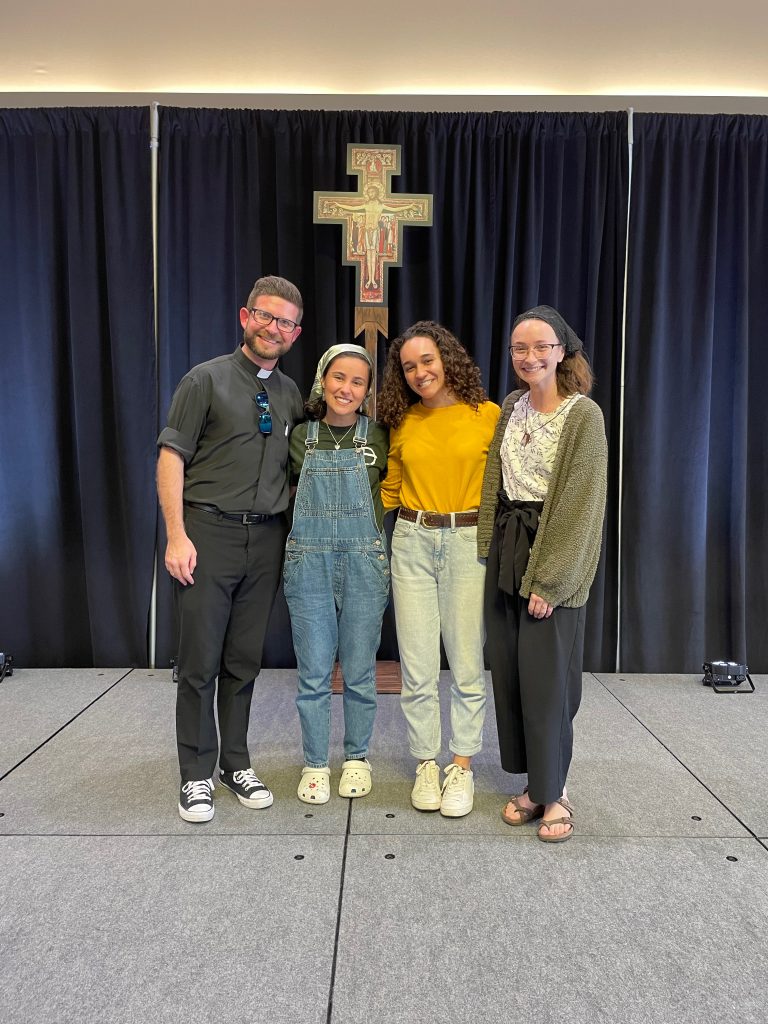 "SPO has its own culture and day-to-day living," Becerra said. "We woke up at six in the morning every day to pray morning prayer together, followed by an hour of personal prayer and then go right into our sessions. After the sessions, we would have Mass and then free time until dinner."
Even though they were always on the go, Becerra said their days were filled with the Holy Spirit.
"The Holy Spirit is so present in these people you can almost physically see Him," Cottle said. "The way that they live is so charismatic and so free. The way they worship is so free."
The two have ideas about how to bring students at USF CSU closer to Christ thanks to the emphasis the internship program put on missionary discipleship.
One thing Cottle said she definitely wants to bring back is the immensely faithful prayer she witnessed.
"They pray over each other and with each other all the time about anything," Cottle said. "If someone needs healing, like if someone hurt their wrist, everyone would pray over their wrist. Their faith was just amazing, and honestly we did witness a lot of healing because the faith was so strong."
Praying physical and spiritual healing prayers over people is something Cottle said she wants to implement more at the CSU.
Bercerra said she noticed that a big theme was living in deep relationships. She hopes to bring back the idea of how to live in deep relationships back to the CSU community.
"I think it would really set our community on fire," Bercerra said.
Cottle agrees that she would love to see close relationships forming at USF in a brotherhood/sisterhood bond.
This past year the CSU formed a worship band called The Rooted, and Bercerra said she is excited to bring back ideas of how to better the worship band after witnessing SPO's worship.
The CSU is having four missionaries from SPO come in August to be present on campus and with the students this school year.
"The missionaries coming have musical talent and it is going to be so cool [to have them involved in our praise and worship]", Bercerra said.
With 2020 being a year of uncertainty, Cottle expressed that she has not had a clear idea of what to expect this year, but after meeting the missionaries her mind was put at ease.
"I had my hesitations about this upcoming year because of this past year, but after meeting the missionaries I'm very excited for this year," Cottle said.
---
Written by Lauren Pieper
Catholic Campus Ministry at USF is made possible by the generosity of CSU Benefactors, and in part by donors of the Annual Pastoral Appeal. Learn more about the Catholic Student Union at USF here. Learn more about Saint Paul's Outreach (SPO) here.