Open Houses for Catholic Schools and Centers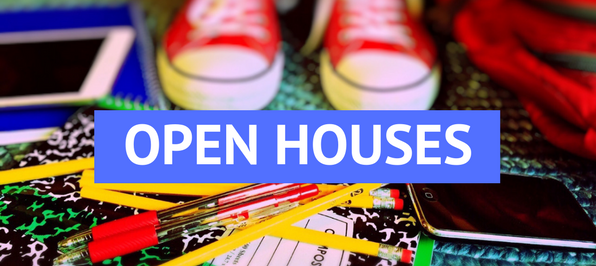 Catholic Schools Week will be held Jan. 28-Feb. 3 around the country. This week is an opportunity to celebrate Catholic education in the United States and the many ways Catholic schools are improving lives of children from all demographics, faith backgrounds, and ethnicities. Catholic schools place a strong emphasis on academic excellence, community service, and responsible citizenship.
Schools typically observe Catholic Schools Week with Masses, open houses and other activities for students, families, parishioners and community members. Through these events, schools focus on the value Catholic education provides to young people and its contributions to Church, local communities and the nation. This year's theme is Catholic Schools: Learn. Serve. Lead. Succeed.
A new website is available (https://flrisingtide.com/) that describes the benefits of a Catholic education, the impact it is having on students and families and why many are working to make Catholic education more accessible to families
Below find dates and times for the open houses in our diocese. If your school's information is not listed, please send the flyer and information to mrm@dosp.org.
Pre-K Schools and Centers
St. Jerome Early Childhood Center
January 28, 2018 | 10:00 a.m. – 12:30 p.m.
St. Paul Catholic Preschool
January 30, 2018 | 9:00 a.m. – 11:00 a.m.
Elementary Schools
Cathedral School of St. Jude
Corpus Christi Catholic School 
February 1, 2018 | 8:30 a.m.
9715 North 56th Street
Temple Terrace, FL 33617
http://cccstt.org | Flyer
Espiritu Santo Catholic School
January 28, 2018 | 9:30 a.m. – 12:00 p.m.
2405A Philippe Parkway
Safety Harbor, FL 34695
www.escschool.org | Flyer
Guardian Angels Catholic School
February 1, 2018 | 8:00 a.m. – 6:00 p.m.
2270 Evans Road
Clearwater, FL 33763
www.gacsfl.com
Morning Star School
February 10, 2018 | 10:00 a.m. – 12:00 p.m.
210 East Linebaugh Avenue
Tampa, FL 33612
www.morningstartampa.org | Flyer
Nativity Catholic School
January 28, 2018 | 11:30 a.m. – 1:00 p.m.
705 East Brandon Boulevard
Brandon, FL 33511
www.nativitycatholicschool.org/ | Flyer
Notre Dame Catholic School
February 10, 2018 | 1:00 p.m. – 4:00 p.m.
1095 Commercial Way
Spring Hill, FL 34606
www.ndcsfl.org | Flyer
Our Lady of Lourdes Catholic School
February 1, 2018 | 7:00 p.m.
730 San Salvador Drive
Dunedin, FL 34698
www.myoll.com | Flyer
Sacred Heart Catholic School
January 28, 2018 | 10:30 a.m. – 1:00 p.m.
7951 46th Way North
Pinellas Park, FL 33781
www.sacredheartpinellaspark.org | Flyer: English / Spanish
Saint Anthony Catholic School
February 1, 2018 | 9:00 a.m. – 11:00 a.m.
12155 Joe Hermann Dr.
San Antonio, FL 33576
www.stanthonyschoolfl.org| Flyer
Saint John Paul II Catholic School
February 7, 2018 | 6:00 p.m. – 7:30 p.m.
4341 West Homosassa Trail
Lecanto, FL 34461
www.sjp2.us | Flyer
St. Joseph Catholic School
February 5, 2018 | 10:30 a.m. – 1:30 p.m.
2200 North Gomez Avenue
Tampa, FL 33607
www.sjstampa.org | Flyer: English / Spanish
St. Lawrence Catholic School
January 18, 2018 | 9:00 a.m. .
5223 North Himes Avenue
Tampa, FL 33614
http://stlawrencecatholicschool.org | Flyer
St. Patrick Catholic School
January 28, 2018 | 10:30 a.m. – 1:00 p.m.
1501 Trotter Road
Largo, FL 33770
www.stpatrickcatholic.org | Flyer: English / Spanish
St. Raphael Catholic School
January 28, 2018 | 10:30 a.m. – 12:00 p.m.
1376 Snell Isle Blvd. N.E.
St. Petersburg, FL 33704
www.straphaelschool.net | Flyer
St. Stephen Catholic School
January 26, 2018 | 8:30 a.m. – 11:00 a.m.
10424 Saint Stephen Circle
Riverview, FL 33569
www.ststephencatholic.org/school | Flyer
High Schools
Bishop McLaughlin Catholic High School
March 22, 2018 | 5:00 p.m. – 7:00 p.m. * RSVP is requested at this website*
13651 Hays Road
Spring Hill, FL 34610
www.bmchs.com | Flyer
Clearwater Central Catholic High School
January 23, 2018 | 9:00 a.m. – 11:00 a.m. *Registration Required*
2750 Haines Bayshore Road.
Clearwater, FL 33760
www.ccchs.org | Flyer

St. Petersburg Catholic High School
February 1, 2018 | 4:30 p.m. – 7:00 p.m.
6333 9th Avenue North
St. Petersburg, FL 33710
www.spchs.org  | Flyer