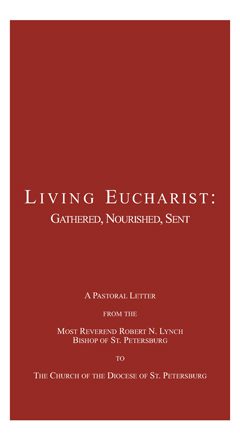 "The Eucharist transforms the worshipping community so that we may be people of hope and action.  The fruit of our faith is love and the fruit of our love is service. As we reflect upon the principles of Catholic social teaching, we realize that we are called to work for charity and justice."
–Living Eucharist: Gathered, Nourished, Sent
The Most Rev. Robert N. Lynch,
Bishop of St. Petersburg
Bishop Lynch began Living Eucharist with the publication of his pastoral letter Living Eucharist: Gathered, Nourished, Sent.  In 2010, Bishop Lynch published a supplement to the pastoral letter in English and Spanish which expands upon the Eucharistic call to be sent into the world to bring Christ to others through evangelization, catechesis, and service.
You can download PDFs of these documents below. If you are unable to open them, you may need to download or update Adobe Reader.
Pastoral Letter
Living Eucharist: Gathered, Nourished, Sent
English – Complete or Text Only
Spanish – Completo or  Texto Solamente
Pastoral Letter – Korean
Pastoral Letter – Vietnamese
2010 Supplement to the Pastoral Letter
English | Spanish
Pastoral Letter Companion Video
As part of the publication of his Pastoral Letter, Bishop Lynch recorded and published a video on the Living Eucharist which can be found below. To see the video that Bishop Lynch recorded in Spanish, please click here.