Our Lady of Lourdes Catholic School Donates 300 Pairs of Shoes for Children in Haiti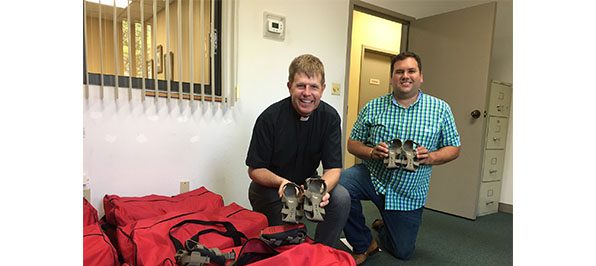 The students of Our Lady of Lourdes Catholic School along with faculty, staff, and families raised $4,544 and purchased 300 pairs of shoes for their sister parish, Le Sacre Coeur, Acul des Pins, Haiti. Click here to see photos.
"I am very proud of our school community in their support of providing these 300 shoes to our sister parish in Haiti. This will not only provide shoes for the children but also provide protection from disease and environmental hazards, but most importantly dignity." said Darrell W. Fulford, principal of Our Lady of Lourdes Catholic School.
These amazing shoes grow with the children up to five sizes! The main fundraiser for this project was "Jeans Day for Haiti," where students donated $2 for a chance to wear jeans on a specified day. Parents, faculty and staff also made personal donations. Father Gary Dowsey and the teens who will be traveling to Haiti next month will be personally delivering the shoes to the children. This is a true example of the mission of Christ and Catholic education. It is through the students' dedication that motivates others to support that same mission, which is to 'live the mission of Jesus'. They clearly represent faith in action.