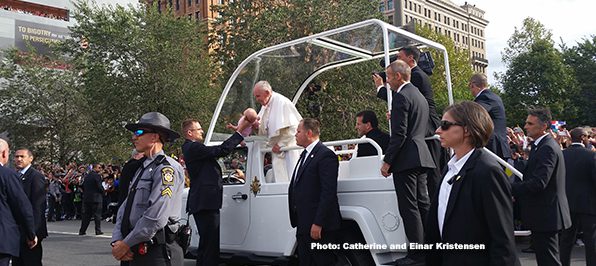 Pope Francis visited the United States from September 22 through September 27, 2015. He visited Washington, D.C., New York City, and Philadelphia, where he participated in the closing of the 2015 World Meeting of Families. Immediately prior to his visit to the United States, Pope Francis visited Cuba.
Read Bishop's Lynch's reflections on his visit here and here.
Text of Pope Francis' Speeches and Homilies
– USCCB (English & Spanish)
– Vatican (English, Spanish and other languages)
Video from Pope Francis' Stops, Speeches and Homilies
Papal Visit and World Meeting of Families Photos around the Diocese
See photos from pilgrimages blessed to be able to journey to the World Meeting of Families and/or Pope Francis' papal visit stops, and photos from the faithful celebrating his visit in their parish, school, workplace and homes.
News Stories about Pope Francis' Various Stops
Pre-Visit
– Tampa-area faithful will make pilgrimage to see Pope on U.S. trip – via the Tampa Tribune
– Tampa Bay Catholics to make pilgrimages to see Pope Francis – via the Tampa Bay Times
– Jesuit High School students travel to see Pope Francis – via Fox 13 News in Tampa
From Cuba
– I Took a Selfie With Pope Francis – via Aleteia
From Washington, D.C.
–Here's what it was like when Pope Francis visited the homeless in DC – from the Catholic News Agency
From New York City
– Pope Francis Charms and Comforts New York City – via NBC News
From Philadelphia
– Pasco priest recalls 'beautiful moment' with Pope Francis – via the Tampa Bay Times
– Pope Francis met Argentine family who travelled 11,000 miles to Philadelphia – via the Catholic News Agency
– Pope Francis' Visit to Philadelphia by the Numbers – via ABC 6 Action News out of Philadelphia
– Tulsan becomes papal pilot as his flight ferried Pope Francis back to Rome – via Tulsa World
Overall Visit
– 30 Beautiful Pope Francis Quotes From His Cuba/U.S. Visit – via LifeTeen International
–  11 Reasons Why Pope Francis Is Welcome Back to the U.S. Anytime – via ABC 6 Action News out of Philadelphia
– Our 15 Favorite Quotes from Pope Francis' Visit – via BustedHalo
– Behind the Scenes With Pope Francis in America – via Time magazine
– 'It was like seeing God': Handpicked American Airlines crew open up about piloting Pope Francis during his trip to the US – via the Daily Mail
– Positive Impact of Pope Francis on Views of the Church – via the Pew Research Center