Parishes Gather for Ministries of Mercy Annual Event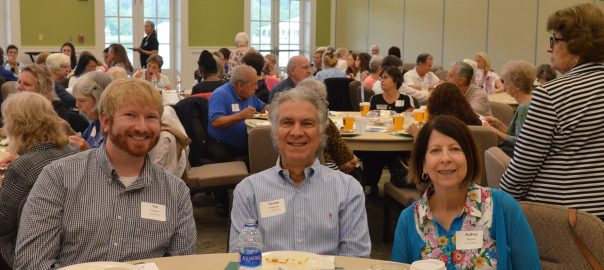 Representatives from various Ministries of Mercy initiatives and programs around the Diocese of St. Petersburg gathered on August 17, 2019 for the annual Ministries of Mercy Mass and Luncheon at the Bethany Center in Lutz. The purpose of the event is to thank these leaders for their faithful service, update them on diocesan initiatives and allow them time to mingle and learn from one another. Many participants are involved with parish life and justice ministries, various programs of Catholic Charities, chapters of the Society of St. Vincent de Paul, Daystar Life Center and others.
Among the 200 attendees was Roseann Smithwik, a parishioner from Our Lady Queen of Peace Parish in New Port Richey. She spoke to the group about her parish's Peace and Justice Committee and English as a Second Language Ministry. More than 30 parish volunteers teach English to immigrants and refugees each week to help them assimilate to the culture and to prepare them for the U.S. citizenship test.
"It's so exciting when they come back to say they have become U.S. citizens," said Smithwik. "They have these big smiles on their faces."
Our Lady Queen of Peace is also involved with training the community on how to prevent human trafficking. Smithwik began this effort after she was trained by the Diocese of St. Petersburg Office of Advocacy and Justice.
"The Tampa Bay area has the unhappy distinction of being third largest in terms of trafficking of people in the country," said Smithwik.
The Ministries of Mercy initiative was started in 2006 by Bishop Lynch to support and foster parish ministries that serve the poor, suffering, and marginalized. The initiative was modeled after the Corporal Works of Mercy; feeding the hungry, sheltering the homeless, clothing the naked, visiting the sick, visiting the imprisoned, giving drink to the thirsty, & burying the dead and was identified as a priority in the Diocese.
Today, these ministries of mercy are active in our parishes and communities across the Diocese serving thousands who come to our doors seeking help. These works of mercy have been integral to the life of the Catholic Church for centuries following Jesus' example of reaching out to the poor. Their focus is on five areas where the need is the greatest: food & clothing, shelter, life, visitation, and health.