Path to Priesthood has Been a "Long Slow Road" for Deacon Joshua Bertrand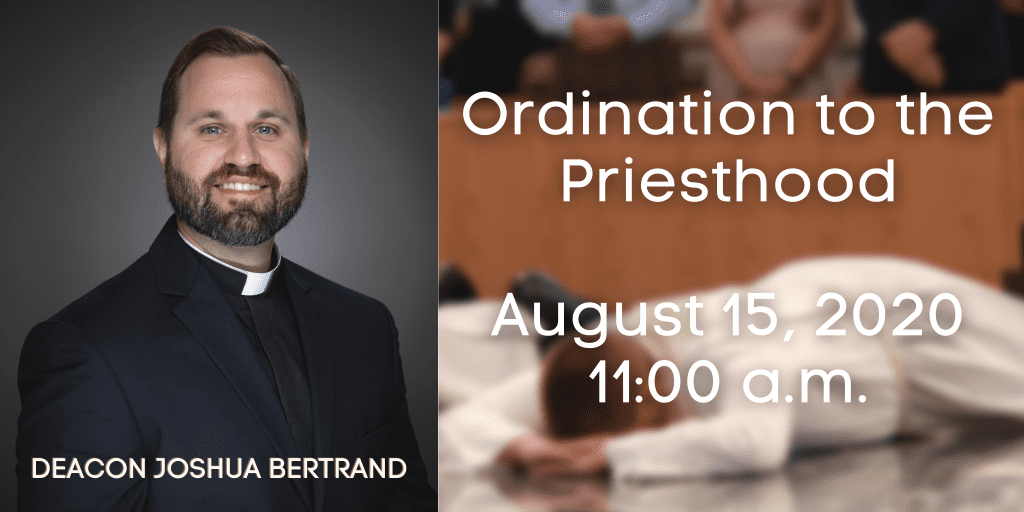 Becoming a priest might have been the last thing on Deacon Joshua Bertrand's mind if you had asked him about it in middle or high school.
The only son of Robert and Marguerite Bertrand, Deacon Bertrand attended Catholic school at an early age but most of his education took place in public schools. He was not involved in church other than occasional Mass participation and his experience with youth group was limited.
"I think I went to one youth group because friends invited me but that was it. So, my formal attendance at a Catholic church was really almost non-existent," said Deacon Bertrand recalling his teenage years.
It was his time at the University of South Florida that sparked the desire to learn more about the faith and his place in life. Joshua had faith-filled conversations with Father Alan Weber, then the Director of the USF Catholic Student Center, and he became more involved in the life of the Center. He grew from a young history major trying to find his way around campus to becoming the USF Catholic Student Center President.
"About a year out from graduation, I really started to think, 'What is God going to call me to do in my life?' Through that journey there were various moments; it was like a slow growth. I think some guys have this moment early on in their life, and this question was always in their mind. It wasn't like that for me," said Deacon Bertrand, who was born in Orlando.
For Deacon Bertrand, seminary presented more opportunities to focus on God's plan. "I think one of the biggest challenges in seminary in a strange way is to realize that this is something God brings forth. It's not something you can will; it's not something you can force. You can set goals and ways on how to achieve those goals and you can apply yourself, but it's a long slow road. You have to allow yourself to be weak enough for Christ to fill you, for grace to fill you and to recognize that on the journey," said Deacon Bertrand.
Regarding the impact of the COVID-19 pandemic on the ordinations, Deacon Bertrand expressed disappointment but understands the situation. "You want a cathedral that's overflowing to celebrate this momentous day and it's been frustrating to kind of let go of that, but it's a reminder that this vocation is a vocation of service. It's not about me, it's about the people of God and the people who I'm going to be ministering to," said Deacon Bertrand.
The impact of Deacon Bertrand's vocation has strengthened his parent's faith. Marguerite Bertrand said, "With Josh having this vocation, it reeled me in. It's really taken my spirituality to a great level. My husband and I are involved at St Vincent de Paul in Celebration; my husband's the president. I have a relationship with Jesus that I really never had before."
In his down time, Deacon Bertrand enjoys reading and a good movie, his favorite being The Lord of the Rings series. He also enjoys the outdoors including fishing, hunting, and gardening. A warning for future parishioners, if you have him over for dinner, he will not eat liver and onions!
Click here to listen to a radio interview with Deacon Joshua Bertrand that is airing on Spirit FM 90.5.
Deacon Bertrand will join Deacon Connor Penn and Deacon Drew Woodke to be ordained to the priesthood on Saturday, August 15, 2020, 11:00 a.m., at the Cathedral of St. Jude the Apostle, St. Petersburg. Due to spacing limitations resulting from the current COVID-19 pandemic, the Ordination Mass will not be open to the public. However, all are invited to view the Mass via livestream on our diocesan website: https://www.dosp.org/livestream

Deacon Bertrand will continue graduate studies at the Pontifical North American College in Rome, effective August 15, 2020.