Pope Francis Appoints a Clearwater Priest to Serve as Bishop of Beaumont, Texas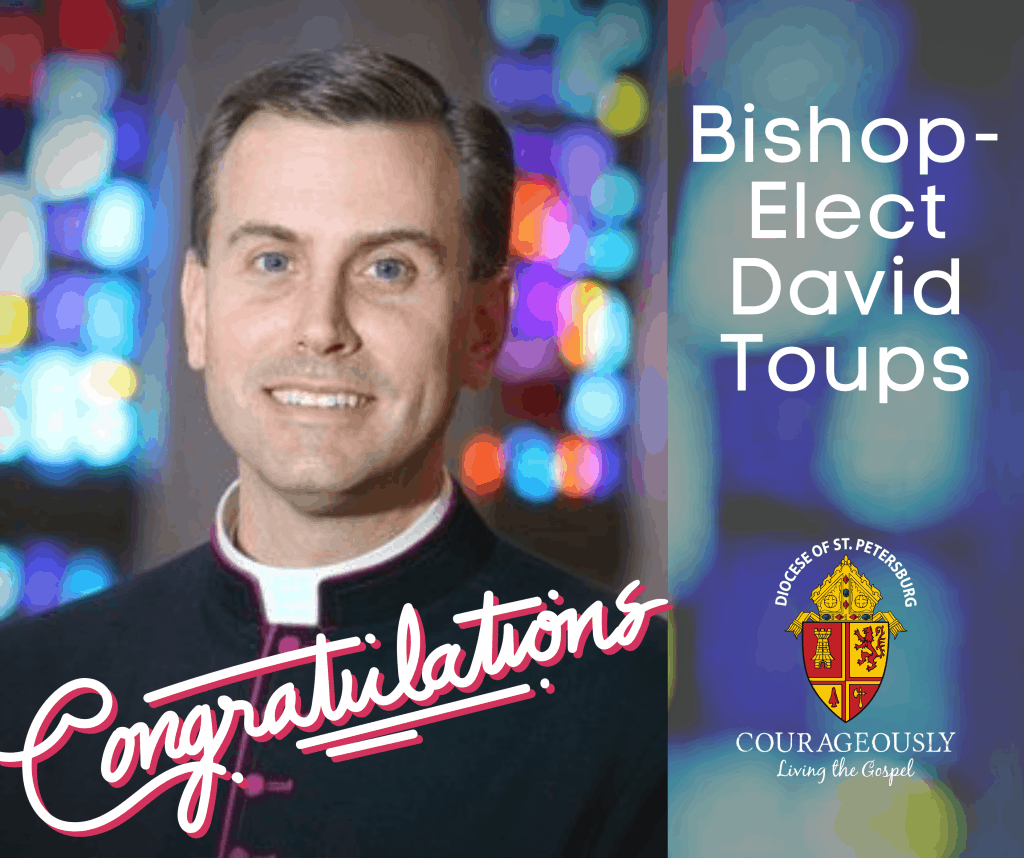 On June 9, 2020, Pope Francis announced that Monsignor David Toups, 49, has been appointed a bishop and his first assignment will be bishop of the Diocese of Beaumont, Texas. He currently serves as Rector of the St. Vincent de Paul Regional Seminary in Boynton Beach, Florida, a position he's held since 2012.
There will be a news conference today at 11:00 am (EDT) in Beaumont – watch it on their Facebook page or on their YouTube. Bishop-Elect Toups' episcopal ordination will be on August 21, 2020, in Beaumont.
In a letter to the faithful of the Diocese of St. Petersburg, Monsignor Toups said, "You are an inspiration to me and I will continue to count upon your prayers and friendship for many years to come. As I depart for my new mission in Texas, the beautiful and indelible memories of my life here cannot be erased by locale. Many family and friends are still here and so I look forward to visits back to this great diocese." (Read full statement here.) (To read the announcement from the Vatican click here.)
Monsignor Toups moved to Clearwater when he was a teenager and he attended Clearwater Central Catholic High School (class of '89), where he was active in sports and Student Council. He thought he would pursue a career as a lawyer, but God had other plans for his life. In his second year of college, he experienced God calling him to be a priest. He was ordained a priest in 1997 at the Cathedral of St. Jude the Apostle in St. Petersburg.
Locally, he served as Pastor of Christ the King Parish in Tampa and Associate Pastor of St. Frances Cabrini Parish in Spring Hill. He has also served with the United States Conference of Catholic Bishops in D.C. as the Associate Director of the Secretariat for Clergy, Consecrated Life and Vocations.
Upon learning of the announcement, Bishop Gregory Parkes of the Diocese of St. Petersburg said, "This news gives us great joy! He is a faithful, joyful, and prayerful priest whom the Lord has now called to even greater service in the Church. While we are sorry to see Bishop-Elect Toups leave our diocese, I am confident that his ministry as shepherd of the Diocese of Beaumont will be a blessing to the priests, deacons, religious, and lay faithful there. We congratulate Bishop-Elect Toups on this appointment and assure him of our prayers during this time of transition."
He obtained a bachelor's degree in philosophy and theology at the Saint John Vianney College Seminary in Miami (1990-1993). He then attended the Pontifical North American College in Rome (1993-1997), receiving a licentiate in theology from the Pontifical Gregorian University. He was subsequently awarded a doctorate in theology from the Pontifical Saint Thomas Aquinas University (Angelicum).