Praying for Peace in our Communities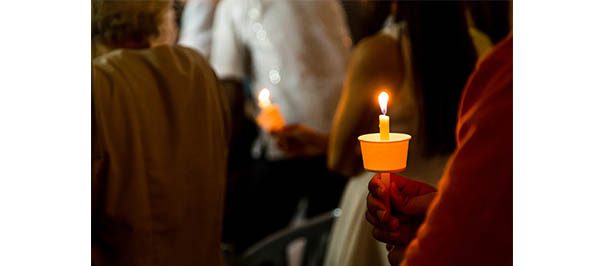 "Some of you said: this system can no longer be endured. We must change it; we must put human dignity again at the center and on that pillar build the alternative social structures we need. It must be done with courage, but also with intelligence, with tenacity but without fanaticism, with passion but without violence. And among us all, addressing the conflicts without being trapped in them, always seeking to resolve the tensions to reach a higher plane of unity, peace and justice." 
— Pope Francis, 10/28/14
In the wake of racial tensions and tragic moments within some of our communities, Archbishop Joseph E. Kurtz, President of the USCCB, has called for a National Day of Prayer on Friday September 9, the Memorial of St. Peter Claver. It is hoped that this gathering for prayer might serve as a foundation for future dialogue and healing within our communities.
Parishes are encouraged to commemorate this day with a special service or during a regularly scheduled Mass. Many of the suggestions outlined below may also be useful and appropriate for liturgies on Sunday, September 11th.
Suggestions for Masses/Prayer Vigils:
A homily which focuses on healing
Special readings chosen by local leaders  [Suggestions:  Mass for Various Needs and Occasions (MVNO): Mass for Peace and Justice; Lectionary Nos. 887-891 OR MVNO: For Reconciliation; Lectionary Nos. 892-896].
Other Suggestions include:
A special rosary for peace within our communities
Ringing the church bells at 3:00 EST on September 9 as a sign of solidarity
To further assist you in preparing for your observance of the National Day of Prayer and to provide materials and information for parish staffs, links to the following may be of use to you:
 Five Ways You Can Cultivate Peace and Work for Racial Justice:
 25th Anniversary U.S. Bishops' Pastoral Letter on Racism
 Press Release on the purpose of the Task Force to Promote Peace and Unity –
 Interview with Archbishop Gregory on Racial Reconciliation and Task Force–
Web page on Racism–
This page provides the latest information in a "What's New" section, Church statements and background documents, statements and letters from bishops, prayer and liturgy resources, teaching material, blogposts and relevant links.
African  American Saints and Candidates for Canonization to feature:
O God, Creator of the world,
under whose governance the design for all ages unfolds,
be attentive, we pray, to our petitions,
and grant to our times tranquility and peace,
that we may exult with unceasing joy
in praise of your great mercy.
Through our Lord Jesus Christ, your Son,
who lives and reigns with you and the Holy Spirit,
one God, forever and ever. Amen.
~Roman Missal, Collect, Mass for the Preservation of Peace and Justice