The Rite of Election – 2023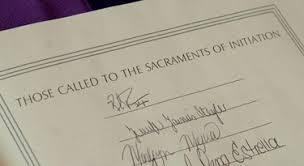 The Rite of Election will be celebrated on the First Sunday of Lent, February 26, 2023 at the Cathedral of St. Jude the Apostle in St. Petersburg at 3:00 PM.
During the Rite of Election, Bishop Gregory Parkes:
Will acknowledge God's gracious call and the catechumens faithful response to seek Christ in His Church.
Will declare the catechumens to be members of the "elect" who will be fully initiated and receive the three sacraments of initiation (Baptism, Confirmation & Eucharist) at the 2023 Easter Vigil.
And it will mark the beginning of their final period of intense, spiritual preparation during the season of Lent, known to them as the Period of Purification & Enlightenment.
A mailing was sent out the week of December 19, 2022 to all pastors and RCIA directors to assist them with their preparations for this year's Rite of Election. Included were:
The deadline for returning the Seating Reservation Form to the Office of Worship is Thursday, January 26, 2023.