Priesthood Ordination – May 15, 2021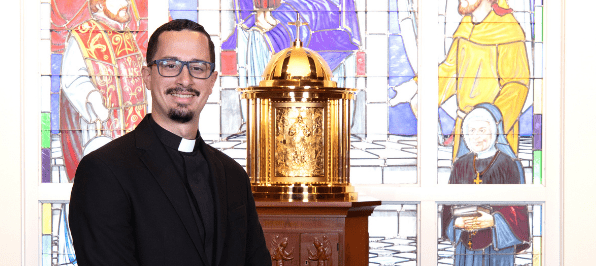 Mark your calendars for the Ordination to the Priesthood of Deacon Israel "Izzie" Hernandez on May 15, 2021 at 11:00 am at the Cathedral of St. Jude the Apostle. Seating will be limited within the Cathedral, but the ordination will also be live streamed at dosp.org/livestream, on Facebook.com/diostpete, and on YouTube.com/dioceseofstpete.
Deacon Israel "Izzie" Antonio Hernandez, was born and raised in Tampa, Florida. Although this is true, his family is from the island of Puerto Rico. His parents are Israel and Daisy Hernandez. He is the youngest of three: his sisters are Judyvette and Meredith Hernandez. Deacon Izzie studied at the University of South Florida, where he got his degree in Business Marketing. He also has his Philosophy degree from St. John Vianney College Seminary. His home parish is Our Lady of the Rosary Catholic Church in Land O'Lakes, Florida, where he spent many of his college years as a Core Team Member, ministering to both the middle and high school youth groups. Deacon Izzie worked for his uncle, Richard Pagan, who owns his own carpet cleaning business. He was employed with him all through college and spent six years working for him. Some of Deacon Izzie's hobbies/interests are; drawing, playing sports (particularly basketball and soccer), superheroes, praise and worship style adoration, and family time. Family is so very important to Deacon Izzie, that his Chalice was handpicked by his parents and two sisters, and given as a gift from family in Puerto Rico, Chicago, New York, Alabama, and Florida. As for his call to the priesthood, Deacon Izzie said it was during his time of ministering to the youth and his own experience as a teen, that he was drawn to serve the Church, the people of God. He often quotes this, "It was during adoration at Camp Covecrest, that I heard the Lord say, 'Just give it a year'". As a seminarian for the Diocese of St. Petersburg, Izzie has served in the following parishes: St. Michael (Hudson), Incarnation (Tampa), and Cathedral of St. Jude the Apostle (St. Petersburg).
There will be a Solemn Vespers Service on Friday, May 14, 2021 at 7:00 pm at Christ the King Parish in Tampa (821 S. Dale Mabry Highway). All are welcome to attend this prayer service, as social distancing permits. The Vespers Service will be livestreamed on Christ the King's website at ctk-tampa.org/live-mass.
Learn more about Deacon Hernandez during a Facebook Live on Monday, May 10, 2021, at 7:00 p.m. on the Diocese of St. Petersburg's Facebook page. Find more details here.
Promotional graphics: Rectangle | Square | Horizontal