Reaching Out to Our Community this Christmas Season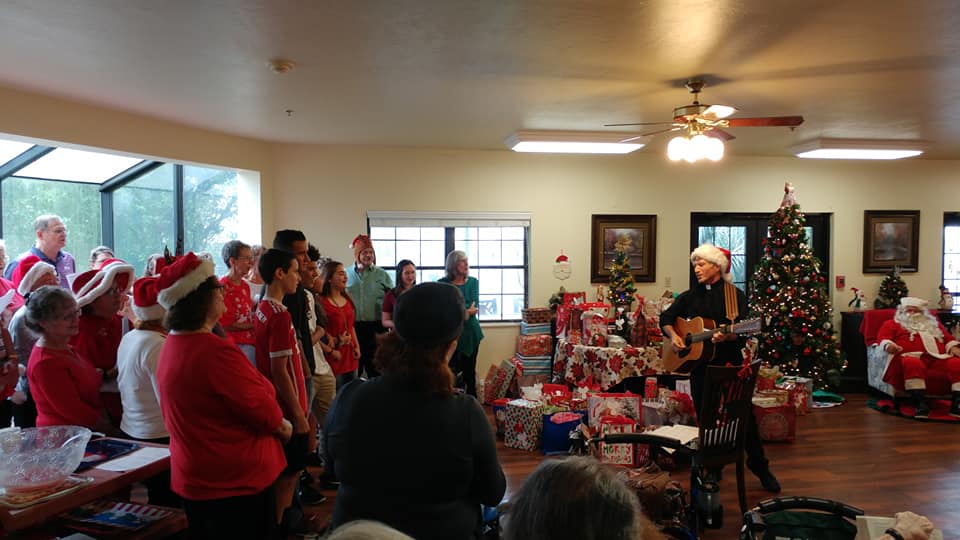 As we await the birth of our Lord and Savior on Christmas Day, we strive to remember the true meaning of the season. As there are many people in our community who will be going without Christmas gifts or even basic everyday necessities, many of our parish and school communities have taken to heart those words from Scripture: "It is better to give than to receive" (Acts 20:35).
Parishioners from across the diocese have shown incredible generosity. Below are a few examples of what our parishes and schools have done to serve our community this Christmas season.
Our Lady of Fatima Parish Brightens the Holidays for Those in Need
Our Lady of Fatima Catholic Women's Club partners with the Family Resource Center of Citrus County to assist parents and guardians who would otherwise be unable to provide Christmas gifts for their children.  They take the names and wish lists of 25 children, make tags and hang them on Christmas trees at the church entrance.  Parishioners then select one or more tags and purchase gifts for the child whose tag was chosen.
"When they bring back their unwrapped gift, the generosity of our parishioners is overwhelming.  They usually exceed what is requested by adding extras, including gift cards to the area grocery stores for Christmas dinner!" shared Debbie Sosnicki, the parish's office manager.
The Women's Club then delivers those gifts back to the Resource Center, where they will be wrapped and delivered.
After these tags are taken, volunteers from the parish hang tags up for the parish'sFamily Tree to assist families in need.  Also included are tags for items requested bythe local Pregnancy & Family Life Center, such as diapers, receiving blankets, and more. "And, once again, the parishioners of Our Lady of Fatima step up and generously donate to make Christmas brighter," said Mrs. Sosnicki.
The Family Tree was begun by parishioner Therese Kendrick.  She and her husband Ed continue to oversee this mission of giving every year.
Learn more about Our Lady of Fatima Parish.
---
Our Lady of Lourdes Parish and Catholic School Collect Over 1,200 Gifts for Children of Migrant Workers
Students of Our Lady of Lourdes Catholic School in Dunedin have been working hard this year to help make Christmas wonderful for children of migrant workers. Since Halloween, the students have been collecting candy and created 449 gift bags to be distributed to the children living in the migrant community near Dade City.
The highlight of Our Lady of Lourdes Parish's Christmas season is seeing the Church narthex filled completely with beautifully wrapped gifts, shiny new bicycles with bows on them, stuffed animals of all sizes, little dollhouses and bundles of gift cards, knowing that these presents will be given to children in need.
When asked about the efforts of his parishioners, the parish's pastor, Father Gary Dowsey, said, "Our seventh and eighth grade students loaded over 1,200 Christmas gifts for the children of migrant farm workers into a caravan of cars. The feeling of joy was palpable. Giving to others is truly awesome work!"  
Learn more about Our Lady of Lourdes Parish and Our Lady of Lourdes Catholic School.
---
Sacred Heart Parish in Pinellas Park Shares Christmas Joy with Residents at Bayside Terrace Assisted Living Facility
During the fall, the lay leadership of Sacred Heart Parish in Pinellas Park gathered with Father Kevin Yarnell to plan their Christmas outreach efforts. After discussing various ideas, the group decided to provide a meaningful Christmas gift to every resident at a local assisted living facility. The parish partnered with Bayside Terrace, a nearby facility. On Sunday, December, 17, the Parish hosted a Christmas party for the residents. Volunteers from the parish, including from the high school youth group, led carols and handed out individualized presents to every resident.
"The cheerful scene and the joy in the faces of the residents was indescribable," shared Father Yarnell. "It is not something I will soon forget."
Learn more about Sacred Heart Parish.
---
St. Catherine of Siena Parish Shares Joy and Warmth this Christmas
St. Catherine of Siena Parish participates in several Christmas outreach projects. Each year, theparish's  St. Vincent de Paul Society sponsors a toy giveaway. Throughout Advent, parishioners take paper ornaments from the parish's Giving Tree, near the church's main entrance. They return unwrapped gifts, which are then sorted by volunteers and displayed on tables in the parish hall. During the week before Christmas, local families in need gather in the parish hall and choose one gift for each of their children.
In addition, the Knights of Columbus sponsor a winter clothing drive for the residents of Pinellas Hope. Members of the parish are encouraged to bring new hats, gloves and socks to the church, which the Knights then wrap. On Tuesday, December 4, the Knights distributed 250 packages of winter clothing to the residents as part of a Christmas party, which included a tree lighting, carol singing and cookies.
Parishioners also participated in Caroling for Cans in the Brookside neighborhood. They split into groups, sang Christmas carols and collected non-perishable foods for distribution to those in need. Then they returned to church where they enjoyed cookies, cocoa, and a fire in the fire pit and a visit from Santa!
Learn more about St. Catherine of Siena Parish.
---
 St. Francis of Assisi Parish Feeds the Hungry
A "mercy tree"can be found in the narthex of St. Francis of Assisi Catholic Church in Seffner. Earlier this month, tags were hung on the tree, listing much-needed food items. Parishioners responded to the request with generous hearts. The food collected goes to stock the St. Francis Food Pantry which is run by members of the parish.
Learn more about St. Francis of Assisi Parish.
---
St. Thomas Aquinas Parish Spreads Holiday Cheer through their Giving Tree
Through their "Giving Tree" Christmas outreach project, St. Thomas Aquinas Parish in New Port Richey is able to make the Christmas brighter for many. Tags are placed on the tree with requests to support a variety of projects and organizations.
Parishioners provide an outfit and a toy for children of families who are being helped by the parish's St. Vincent de Paul Society and diapers, baby items, and gifts for mothers to give to the West Pasco Pregnancy Center and Cyesis, a program for teen mothers in the public school system. The parish also collects Walmart gift cards to send to the Diocese of Fairbanks, Alaska. Fairbanks is a mission diocese, which the parish assisted through a Missionary Appeal several years ago. Members of the parish were moved by the appeal to provide continued assistance to the diocese.
Additionally, the parish provides gifts for the parents of families in a transitional housing program in Holiday, which is run by Metropolitan Ministries. The program was able to obtain gifts for the children but needed help with gifts for the parents. Clients of the Women's Resource Center of Tampa Bay, which cares for mothers dealing with addiction, also receive gifts. St. Thomas Aquinas Parish is also involved with "One Community Now" (OCN), a faith-based non-profit that seeks to address the needs of the community. For Christmas, the Parish provided the toys for their annual Christmas party for the Holiday Lakes Estates subdivision – a low income area that OCN has taken on as a community transformation project.
"As always, I am blown away by the generosity of our parishioners.  Not only do they simply buy the giftthat is on the tag, but they obviously put a lot of thought into what they purchase and more often than not, go the extra mile, being the hands and feet of Christ," shared Mary Miller, Pastoral Ministries Coordinator at St. Thomas Aquinas Parish.
Learn more about St. Thomas Aquinas Parish.