Rev. Msgr. William W. DuBois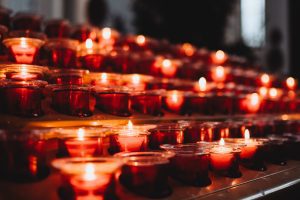 The Chancellor's Office has been informed that Monsignor William W. DuBois, 98, a retired priest of the Diocese of St. Petersburg, passed away in the Lord on Thursday afternoon, April 15, 2021, while under Hospice care at Regal Palms Assisted Living Facility, in Largo.
William Wehle DuBois was born on April 4, 1923 in Irondequoit, New York (suburb of Rochester), the only child of Abram and Edna (Wehle) DuBois. After graduating from St. Bernard's Seminary, in Rochester, he was ordained for the Diocese of St. Augustine by Most Reverend James Kearney, Bishop of Rochester.
During his 73 years of priestly life, 31 of which were spent in active ministry, Monsignor DuBois began by holding various Chancery positions for the Diocese of St. Augustine, including as Ecclesiastical Notary of the Tribunal and Secretary to Auxiliary Bishop Thomas J. McDonough. He also served as Administrator of Sacred Heart Parish (now Mission) in Green Cove Springs (1949-1951). Monsignor DuBois was later assigned as Assistant Pastor pro tempore of St. John Parish, Hialeah (1952), then was transferred to St. Paul Parish, Jacksonville Beach (1952-1953), followed by a move to the west coast of Florida, where he was appointed as Assistant Pastor of St. Paul Parish, St. Petersburg (1953-1954).
In December 1954, Monsignor DuBois was sent to the mission community of St. Ignatius of Antioch, Tarpon Springs, to assist in the establishment of the community as a parish in 1955, when he would also be named the parish's first pastor. In November 1957, Bishop Joseph Hurley charged Monsignor DuBois with preparing the foundation for a new parish in the nearby Dunedin area. On May 6, 1958, he was appointed as the first pastor of Our Lady of Lourdes Parish, Dunedin. Four years later, he would establish Our Lady of Lourdes Catholic School and would serve as its principal until 1965, when the Sisters of Notre Dame, of Chardon, Ohio arrived to help staff and to assume administration of the school.
Monsignor DuBois became an incardinated priest of the Diocese of St. Petersburg upon its establishment in 1968. In 1978, due to health reasons, Monsignor DuBois would take a 10-month leave of absence, and on May 31, 1979, he would retire from active ministry at the age of 56, after shepherding the faithful of Our Lady of Lourdes Parish for 21 years. He would continue to provide assistance to the parish as Pastor Emeritus for many years.
During his active ministry, Monsignor DuBois served on various diocesan commissions, including the Incarnation Commission and the Priestly Formation Committee and the Diocesan Liturgical Commission. He also served as the Promoter of Justice for the diocesan Tribunal.
On February 3, 1989, at the request of Bishop W. Thomas Larkin, Pope John Paul II conferred the title Prelate of Honor upon Monsignor DuBois, with its honorary title of "Monsignor."
All funeral services will be held on Wednesday, April 21, 2021, at St. Cecelia Catholic Church, 820 Jasmine Way, Clearwater. Reception of the body will take place at 9:30 a.m., with visitation (closed casket) from 9:30 to 10:30 a.m., followed by a Funeral Mass at 10:30 a.m. Bishop Gregory Parkes will be the principal celebrant.
Clergy wishing to vest are encouraged to bring an alb and white stole.
Burial will follow at Calvary Catholic Cemetery, 5233 118th Avenue N., Clearwater.
+++++
Well done, good and faithful servant […] Come, share your master's joy" (Matthew 25:21).