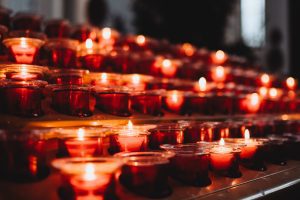 The Chancellor's Office received word that Reverend Eric Hunter, 76, a retired priest of the Diocese of St. Petersburg, passed away in the Lord early this morning, January 11, 2021, at his residence in Largo, while under Hospice care.
Father Hunter was granted retirement status in July 2019, after serving as Pastor of St. Brendan Parish, Clearwater for ten years.  Prior to that assignment, he served as Pastor of Incarnation Parish, Tampa from 1989 to 2009.
A Funeral Mass will be held on Saturday, January 16, 2021, 11:00 a.m., St. Brendan Catholic Church, 245 Dory Passage, Clearwater Beach. Bishop Emeritus Robert N. Lynch will be the principal celebrant. Priests wishing to concelebrate are invited to bring an alb and white stole.
For those unable to attend in person, the Funeral Mass will be broadcast via livestream video on the St. Brendan Parish website: http://www.stbrendancatholic.org/.
Burial will follow immediately at Calvary Catholic Cemetery, 5233 118th Avenue N., Clearwater.
Expressions of sympathy may be sent to the family of Rev. Eric Hunter, in care of the Diocese of St. Petersburg, Office of the Chancellor, P.O. Box 40200, St. Petersburg, FL 33743-0200.
Please keep Father Hunter's family members and loved ones in your kind thoughts and prayers during this difficult time.
Complete death announcement at this link.
++++
May his soul and the souls of all the faithful departed,
through the mercy of God, rest in peace!