Saint Leo Makes A Difference On Campus and Off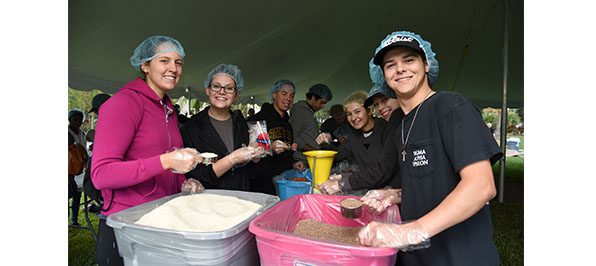 Volunteers from across the nation, including those from Saint Leo University, observed Make A Difference Day on October 28. University Campus hosted a day of community service with volunteer opportunities offered on campus and off.
"Saint Leo University participates in Make A Difference Day to demonstrate our core values of community and responsible stewardship," said Krystal Sanchez, assistant director of Greek Life and Community Engagement for Student Activities. "Our students, faculty, and staff are always energized to create positive change by donating their time and talents to our nonprofit partners in the area. This past Saturday was no different."
At University Campus, volunteers could choose from helping with projects for Caps of Love, Feeding Children Everywhere, Metropolitan Ministries, and Saint Leo's community garden. Off campus projects included helping with Sunrise of Pasco County's community garden, YMCA of Pasco County in West Pasco County, FL; Habitat for Humanity's ReStore in Zephyrhills, FL; Hurricane Irma relief with Catholic Charities; and outdoor projects with the Benedictine Sisters of Florida in St. Leo, FL.
The goal was for students, faculty, and staff to engage with community partners on various projects. The participating nonprofits represented a wide range of social issues including hunger and homelessness, environmental issues, education, and disability services.
Saint Leo was well-represented with more than 275 volunteers taking part in Make A Difference Day.
At University Campus, students sorted various plastic bottle caps and lids for the Caps of Love project, sponsored by the Office of Residence Life. The plastic caps are recycled and funds raised from the recycling are used to purchase or refurbish wheelchairs for children with mobility issues. In 2016-2017, Saint Leo collected 12,000 pounds of plastic caps—enough to fill 21 pallets. The funds raised were used to purchase a new wheelchair, which was presented in July to Michael Ledford, a fourth-grader at West Zephyrhills Elementary School.
Saint Leo volunteers also donned hairnets and formed assembly lines to package food for Feeding Children Everywhere. Volunteers scooped and poured lentils, white rice, dehydrated vegetables, and pink Himalayan salt forming jambalaya mixes. The organization is committed to providing healthy meals to children and families around the world.
In addition, helpers shoveled mulch, picked up sticks and weeds, and more at the university's community garden.
"Make A Difference Day shows that anyone, no matter of age or background, can make an impact on their community," states the website for the national Make A Difference Day. "Thousands of projects take place every October. Some large, many small. But each effort makes an important difference to our communities."
About Saint Leo University
Saint Leo University (www.saintleo.edu) is a modern Catholic teaching university that is firmly grounded in the liberal arts tradition and the timeless Benedictine wisdom that seeks balanced growth of mind, body, and spirit. The Saint Leo University of today is a private, nonprofit institution that creates hospitable learning communities wherever students want to be or need to be, whether that is a campus classroom, a web-based environment, an employer's worksite, a military base, or an office park. Saint Leo welcomes people of all faiths and of no religious affiliation, and encourages learners of all generations. The university is committed to providing educational opportunities to the nation's armed forces, veterans, and their families. Saint Leo is regionally accredited to award degrees ranging from the associate to the doctorate, and the faculty and staff guide all students to develop their capacities for critical thinking, moral reflection, and lifelong learning and leadership.
The university remains the faithful steward of the beautiful lakeside University Campus in the Tampa Bay region of Florida, where its founding monks created the first Catholic college in the state in 1889. Serving more than 13,000 students, Saint Leo has expanded to downtown Tampa, to other sites in Florida and beyond, and maintains a physical presence in seven states. The university provides highly respected online learning programs to students nationally and internationally. More than 90,000 alumni reside in all 50 states, in Washington, DC, in three U.S. territories, and in 76 countries.