Saint Leo University and Community Partners Donate Wheelchair to Woodland Student through Caps of Love Program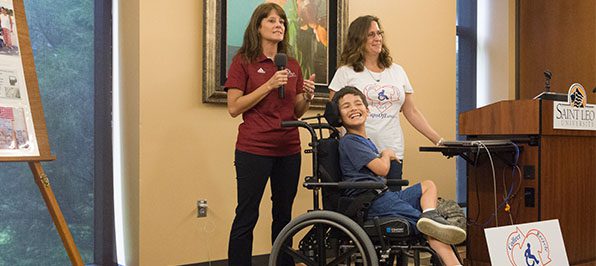 Saint Leo University's core values of community and responsible stewardship were on full display on July 13, 2017, as the university presented a new wheelchair to Michael Ledford, a rising fourth-grader at Woodland Elementary School in Zephyrhills, FL. Michael's wheelchair was purchased using funds raised by Saint Leo and its many community partners through the Caps of Love program.
Spearheaded by Heidi D'Ambrosio, senior coordinator for Residence Life, Saint Leo students, faculty, and staff along with community and business partners in five counties, began collecting plastic bottle tops in the fall.
On March 23, 12,000 pounds of plastic caps—enough to fill 21 pallets—were loaded onto a truck and shipped to Commercial Plastics Recycling in Tampa.
Founded by Valerie Mathieu, the goal of the Caps of Love organization is to, "educate the public on how to identify and recycle correctly and to provide wheelchairs to the physically challenged under the age of 21," in the United States.
"This is the 72nd wheelchair Caps of Love has presented," Mathieu said.
During a reception for Michael; his family; Pasco County School District officials and teachers; the Saint Leo community; and community and business partners, D'Ambrosio expressed nervousness at speaking in front of a crowd. "But I'm truly passionate about making a difference," she said. "And we're making a difference one cap at a time."
Mathieu presented Michael with a new manual wheelchair that will greatly help him get around the Woodland Elementary campus and his house, his mother said. Click here for photos.
Saint Leo University had many partners in this project including Home Depot of Zephyrhills; Zephyrhills Water; Rowland Transportation; Sabrina Burton Schultz and the Diocese of St. Petersburg; Bishop McLaughlin Catholic High School; Montessori by the Sea School; Pasco-Hernando State College-North campus; Southern Charm Mobile Home Park in Zephyrhills; The Rock Church in Brooksville; Trinity Church of Wesley Chapel; Highlander Café located in Crystal River; Naval Air Station Pensacola; Domino's Pizza; and several Pasco and Hillsborough county schools and scout troops.