Saint Leo University Begins Welcoming New Students for Fall Semester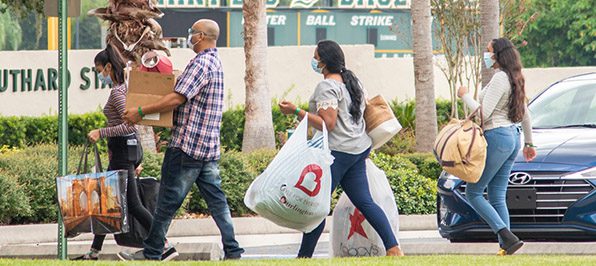 ST. LEO, FL – This year, because of the COVID-19 pandemic, Saint Leo University is welcoming students to its campus over several days in order to protect the health and safety of everyone. The process began with a "move-in day" on Tuesday, August 18.
New and transfer students will move to campus, 33701 State Road 52, St. Leo, FL, 33544, from Tuesday, August 18, through Thursday, August 20.
Saint Leo University is expecting to see approximately the same number of new students this fall at University Campus as were enrolled last year, with an expected new student enrollment of about 950. Last year (2019) was a record-breaking fall for the university with a 46 percent increase in enrollment over prior years at 1,004 new students.
"We are very proud to see that trend continue," said Dr. Melanie Storms, senior vice president. "It will be the second largest enrollment in Saint Leo history."
Enrollment in Saint Leo's online programs also has increased 16 percent over last year.
Notable characteristics of the incoming Fall 2020 class include:
● 64 percent are from Florida;
● 20 percent are from out of state; and,
● 16 percent are from international countries.
To allow for social distancing, room capacity in Saint Leo's residence halls has been decreased. Rooms that normally house three or four students will be reduced to two so the university is eliminating triples and quads for this year.
As of August 18, Saint Leo will have 1,345 students residing on campus, and residence halls are at 88 percent of capacity. Of those students residing on campus, 56 percent are returning students and 44 percent are new students. Returning students move to campus August 22 – 24.
Protecting the "Pride"
The university is taking many steps to keep its "Lions" healthy and safe. Some of the measures are:
● Students will use a daily check-in mobile app to let staff know that they are free of fever and other COVID-19 symptoms. Faculty and staff also will have a daily check-in. Temperature-check stations will be located throughout campus.
● Masks are required for all students, faculty, staff, and visitors. Social distancing practices will be in place with limited capacity allowed in classrooms, meeting spaces, offices, gymnasium, and all university locations.
● Enhanced cleaning protocols will be instituted across all Saint Leo facilities, including classrooms, offices, housing and dining facilities, restrooms, and public spaces.
● All facilities, including the library, computer labs, and other shared spaces will be limited to no more than 50 percent occupancy to promote social distancing. Plexiglass guards are being installed at some common points of service such as cashier stations.
Welcoming Students
During New Student Orientation (NSO), events are planned to educate, entertain, and inform students, while keeping them safe. Events will be presented in various manners: in-person, virtual, and hybrid (mixture of online and in-person). For example, students can meet with Student Financial Services representatives by appointment in-person and online; there will be meetings for Saint Leo's various colleges via Zoom; musical performances will be virtual and onsite, while other entertainment such as a murder mystery night and movie night, will be virtual.
The Saint Leo community will gather virtually to celebrate the Mass of the Holy Spirt at 11 a.m., Thursday, August 27. Mass will be celebrated in the Abbey Church by Abbot Isaac Camacho and livestreamed at https://www.youtube.com/channel/UCc_QTkreSPTDpHzWaz7HdMg.
Hitting the Books (or Zoom)
Classes will begin on Tuesday, August 25. The most popular majors for the incoming students are biology, business, criminal justice, computer science, and psychology.
The university Center for Teaching and Learning Excellence has been busy, helping faculty prepare for the new learning options including how to use Zoom in the classroom while teaching the hybrid classroom option which features a modified face-to-face format. Classes will be offered during a regular class period with students assigned to Group A and Group B. They will rotate attending in-person and socially distanced and remotely via Zoom video conferencing software, both delivery formats allow for appropriate social distancing.
"We listened to our students and parents, and we developed flexible options for classes," said Dr. Jeffrey D. Senese, university president. "Our goal is to keep our students on track to complete their degree programs and offer them the best possible educational experience."
Saint Leo will offer a new academic degree this year, a bachelor's in health education and health promotion—that will prepare graduates for a growing number of health education positions at community organizations, health care agencies, and workplaces.
At the end of this cohesive program of study, students may take a national competency exam for the Certified Health Education Specialist credential. Some employers require the credential, and it is considered an asset for those in the field.