Saint Leo University Community Joins with Benedictine Monks of Saint Leo Abbey to Celebrate Patron Saint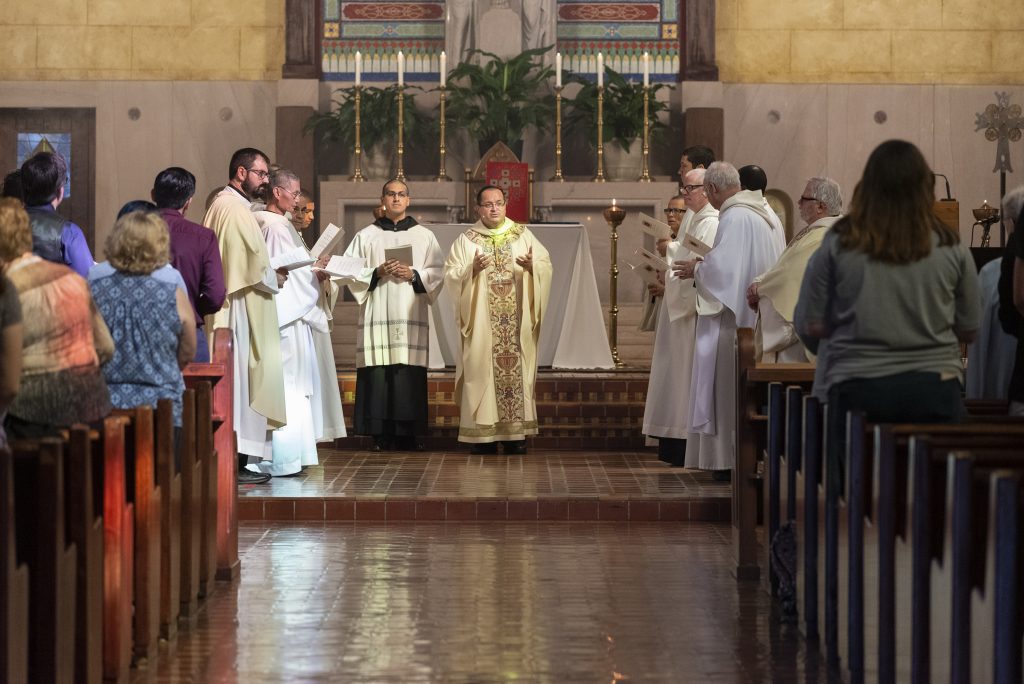 ST. LEO, FL – The Saint Leo University community gathered  on November 8 at the Saint Leo Abbey Church for Mass in recognition of feast day for Saint Leo the Great.
The feast of Saint Leo is usually observed on November 10; however, Abbot Isaac J. Camacho, OSB, (Saint Leo Class of 1995) transferred it to Thursday, November 8, so students and staff could attend and celebrate the university's patron.
In the first reading from Sirach 39:  6-11, the Saint Leo community was reminded, "If it pleases the Lord Almighty, he will be filled with the spirit of understanding;
He will pour forth his words of wisdom and in prayers give praise to the Lord."
Saint Leo President Jeffrey D. Senese noted at Mass that Saint Leo the Great worked with the poor and the underserved, just as the university is called to live its Benedictine core values and help each other and our community.
Photo by Benjamin Watters, Saint Leo University
About Saint Leo University
Saint Leo University (www.saintleo.edu) is a modern Catholic teaching university that is firmly grounded in the liberal arts tradition and the timeless Benedictine wisdom that seeks balanced growth of mind, body, and spirit. The Saint Leo University of today is a private, nonprofit institution that creates hospitable learning communities wherever students want to be or need to be, whether that is a campus classroom, a web-based environment, an employer's worksite, a military base, or an office park. Saint Leo welcomes people of all faiths and of no religious affiliation, and encourages learners of all generations. The university is committed to providing educational opportunities to the nation's armed forces, veterans, and their families. Saint Leo is regionally accredited to award degrees ranging from the associate to the doctorate, and the faculty and staff guide all students to develop their capacities for critical thinking, moral reflection, and lifelong learning and leadership.
The university remains the faithful steward of the beautiful lakeside University Campus in the Tampa Bay region of Florida, where its founding monks created the first Catholic college in the state in 1889. Serving nearly 12,000 students, Saint Leo has expanded to downtown Tampa, to other sites in Florida and beyond, and maintains a physical presence in seven states. The university provides highly respected online learning programs to students nationally and internationally. More than 93,000 alumni reside in all 50 states, in Washington, DC, in three U.S. territories, and in 76 countries.