Saint Leo University Earns Best Regional University, Best Value Honors from "2017 U.S. News & World Report's Best Colleges"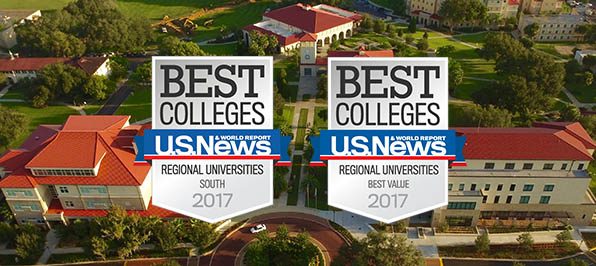 Saint Leo University was named as one of the best regional universities and best values in higher education in the 2017 U.S. News & World Report's Best Colleges, which was released on Tuesday, September 13, 2016.
Saint Leo ranked 62nd among regional universities in the South, which marks a rise from its previous ranking of 71st. In addition, the university was named as one of the Best Value Regional Universities-South.
"Saint Leo University provides a terrific educational value, and we are pleased that the U.S. News & World Report's rankings recognize the quality and excellence offered by the university," said Dr. William J. Lennox Jr., president. "The rankings point to our student-centered mission, our caring faculty and staff, and our dedication to providing quality education. We will continue to progress and grow, coaching our students, and making sure they succeed."
U.S. News & World Report provides the college rankings to help students and their families make decisions about where to attend.
Those schools included in the regional universities category offer a full range of undergraduate programs and offer graduate programs at the master's level, according to U.S. News, although they offer few if any doctoral programs. Saint Leo offers a Doctor of Business Administration degree. Of the 653 regional universities, 385 are private (including Saint Leo), 257 are public, and 11 are for-profit.
The universities named as best in the national universities category offer a variety of undergraduate majors plus master's and doctoral programs as well as emphasizing faculty research.
U.S. News uses several criteria to measure academic quality and rank universities. These include freshman retention and graduation of students; peer assessment; faculty resources; student selectivity; financial resources; alumni giving; and graduation rate performance.
Not only did Saint Leo place on the best regional universities in the South list, but it also earned the Best Value distinction for academic quality and the net cost of attendance for students receiving the average level of need-based financial aid, according to U.S. News.
In January, U.S. News & World Report named Saint Leo University among the top universities in its 2016 "Best Online Programs" edition. Saint Leo has had a robust online program since 1998.
Specifically, Saint Leo University was ranked high in the Best Online Programs for bachelor's (tied for 43rd) and graduate business (non-MBA) (tied for 56th) programs. It was also recognized for its excellence in the MBA and graduate education online programs.