Saint Leo University Makes Difference With Bottle Caps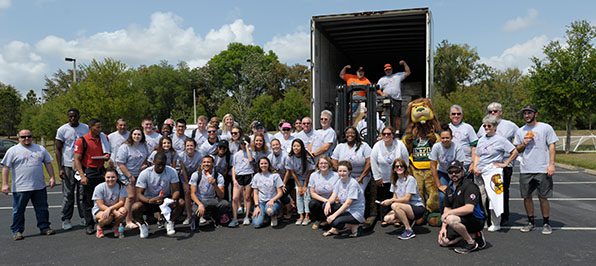 More Than 12,000 Pounds Recycled to Purchase Wheelchairs for Children
Giving back to the community is a central part of life at Saint Leo University, and a recent project not only helped others, but also protected the environment. Students, faculty, staff, and community organizations and businesses collected bottle caps for Caps of Love, a Florida-based nonprofit organization that recycles plastic tops.
The proceeds from recycling the plastic are used to purchase new and refurbished wheelchairs for children with mobility disabilities.
Under the guidance of the Office of Residence Life, Saint Leo collected 12,000 pounds of plastic caps—enough to fill 21 pallets. On Thursday, March 23, Saint Leo held a celebration and send-off for the Caps of Love project featuring food, music, and giveaways while a truck was loaded to take the caps for recycling at Commercial Plastics Recycling in Tampa.
Saint Leo University had many partners in this project including Home Depot; Zephyrhills Water; Rowland Transportation; Sabrina Burton Schultz and the Diocese of St. Petersburg; Montessori by the Sea School; Pasco-Hernando State College-North campus; Southern Charm Mobile Home Park in Zephyrhills; The Rock Church in Brooksville; Trinity Church of Wesley Chapel; Highlander Café located in Crystal River; Naval Air Station Pensacola; Domino's Pizza; and several Pasco and Hillsborough county schools and scout troops.
Last year, Saint Leo University collected more than 8,000 pounds of plastic bottle caps, which filled 14 pallets.
"Saint Leo University participates in this program to promote giving of our time and realizing that together as a community we can make a difference," said Heidi D'Ambrosio, senior coordinator for Residence Life.
The goal of the Caps of Love organization is to, "educate the public on how to identify and recycle correctly and to provide wheelchairs to the physically challenged under the age of 21," in the United States, according to its website.
Saint Leo students sorted through transparent and colored bottle caps and separated them into three types. The main types of plastic Caps of Love recycles are: Polypropylene No. 5, Polyethylene No. 2, and Polyethylene No. 4. The caps were boxed for shipping to the recycling company.
"I think this program is fantastic because it is a way to make a difference in a child's life and it has brought the community together as well as four counties," D'Ambrosio said.
The university will continue the project and collect more bottle caps for Caps of Love, hoping to top this year's total. See accompanying photos by clicking here.