Sister Maureen Michael Byrne, S.S.N.D.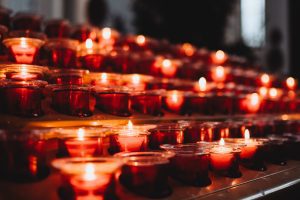 Dec 23, 1941 – Mar 22, 2021
Sister Maureen Michael, SSND (Catherine Paula Byrne) a servant of our Lord entered into eternal life March 22, 2021. Sister Maureen was a member of the School Sisters of Notre Dame with over fifty three years of service to her community.  She started her career as a teacher at the Cathedral of St. Jude the Apostle in St Petersburg, FL.  She joined the School Sisters of Notre Dame in 1964.  During her years of service she has been a teacher, administrator, Missionary and Artist.  As the principal of Our Lady of Perpetual Help she merged with Sacred Heart Academy in Tampa, FL, bringing revival schools together from 1973 to 1984.
In the late 80's she moved to Venice to teach art at Epiphany Catholic School, becoming a member of Epiphany Cathedral and opening Still Point Studio where she taught art and ran summer camps until present.
Sister Maureen was preceded in death by her parents John (Jack) and Catherine Byrne, her cousins Maureen LaFortune and Peter MacDonald.  She is survived by her sister, Mary Ellen Byrne, Sarasota FL, brothers John Byrne (Annice), Panama City, FL and Michael Byrne Jacksonville, FL; several cousins , nieces and nephews.
A celebration of life and Requiem Mass were held on Saturday, March 27th  at  Epiphany Cathedral, Venice.
Donations may be made to School Sisters of Notre Dame(SSND), 6401 N. Charles St., Baltimore MD 21212 or Booker High School Art Department, 3201 N. Orange Ave., Sarasota FL 34234.
Complete obituary at this link.
+++++
May her soul and the souls of all the faithful departed,
through the mercy of God, rest in peace!