Sr. Helen Lange Continues to Be a Gift on her 105th Birthday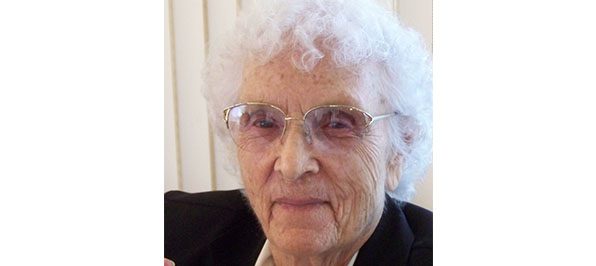 Sister Helen Lange, a member of the Benedictine Sisters of Florida in Saint Leo, Florida,  celebrates her 105th Birthday on Friday, September 28, 2018. She came to our community from Rowena, Texas in 1930 with cousins who would also join us – Sister Pauline and Sister Irma in 1930.  Throughout her life here, Sister Helen has left her endearing mark on all those she encounters.
Sister taught school in Texas, Louisiana and throughout the state of Florida for 44 years.  As she talks about her many years of educating children, it is with great joy and amazing recall. Students she taught like Guy Moore at St. Martha's in Sarasota and many local students at St. Anthony in San Antonio, FL talk about how Sister Helen gave them the profound gift of the love of learning and music.  They especially recall the productions like "Cowboy on the Moon."  Many of her students have travelled long distances to honor her past birthdays.  This year is no different with Guy coming from Tallahassee and her nieces from Maryland to surprise their "favorite aunt and teacher"!
Each year Sister Helen's birthday includes fun surprises.  The fire department was there for her 103rd to help blow-out the 103 candles on her cake and on her 104th birthday, this Texas girl stood-up and asked everyone to join her in singing her favorite song – "Home on the Range."
From Sister Helen's first vows and throughout her life, her commitment to serve included not only the young, but also the elderly.  Her second career was in Gerontology and pastoral ministry at Maria Manor in St. Petersburg and in Bellville, IL.  In the 1990s she coordinated the Benedictine Sisters very popular Elder Hostel program.
Sister's legacy includes the short stories she wrote about her life entitled "Kicking the Habit," which covers the years 1913 through 1999. In it she shares a strong tradition of faith from her family of hard-working early pioneers, her strength in leaving home to join the Benedictine Sisters in Florida, and the many changes and opportunities a life in service to God brought. Her life story is in some parts somber, some episodes hilariously entertaining like "sisterly pranks" and "nunsense," and always full of hope and positive vision. She concludes the manuscript:  "Today I'm looking forward to the year 2000 and living in a changing era, religious and laity alike. It is a changing time, an exciting and a holy one. We need to embrace it with zeal, faith and trust in God. We must keep the fires of enthusiasm alive. There is an old Gallic saying: 'If not to bank the fire, then certainly to bury the coals, to carry them to new places so that they can flame again.' This is the challenge we all have. This is how we keep the flame of God's love alive in our souls."
Sister Helen's exemplary life including all the roles she has held both outside and within the monastery, has been first and foremost about love and compassion. Now her role continues as Sister Helen ministers with loving care to fellow residents at Heritage Park Rehabilitation Center (Dade City) where she resides.  Retire? Not this lady!