St. Joseph Parish Holds a Community Forum on Race and Police Brutality in St. Pete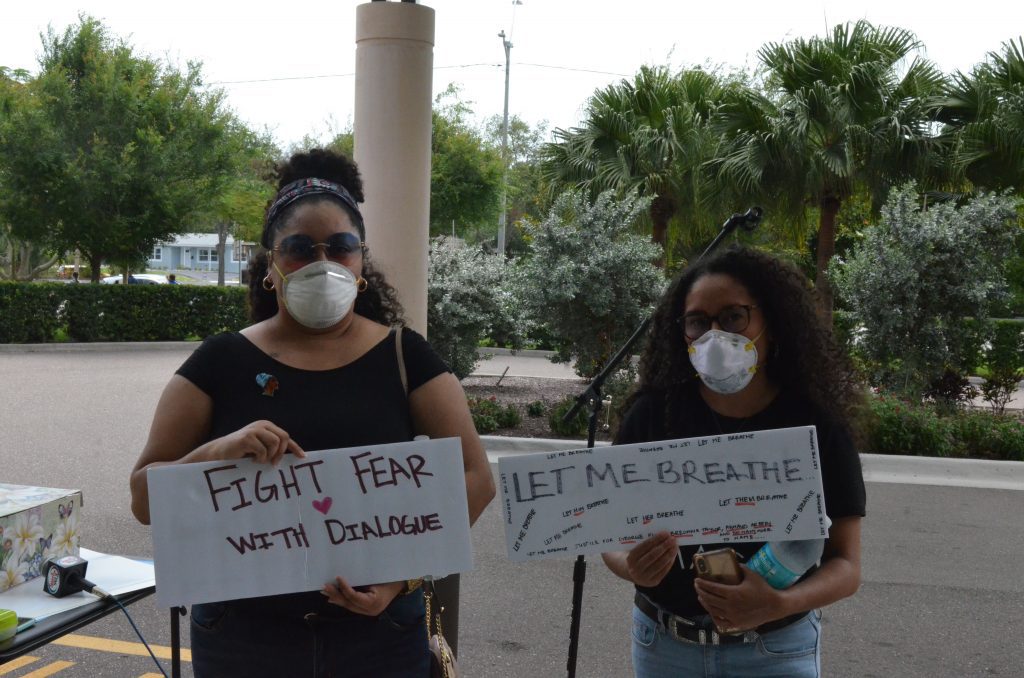 The horrific killing of George Floyd has reminded us that racism is a contemporary problem–on the streets, in our workplaces, in our schools, and in our churches. Though peaceful protests are often a necessary means to social change, coming together to build consensus and a clear path forward is also crucial. In order to assist the community with exploring solutions, St. Joseph Catholic Church in St. Petersburg organized a community forum on these recent events.
The Forum was held on June 8th with the goal of bringing together leaders in the black community and discerning how to direct the passion for justice manifest in so many demonstrations around the nation. "We're doing what we can to bring people together for conversation. With social distancing, I've been reluctant to have a large gathering. We've got to have prayer and conversations to collaborate for real and effective change," said Pasto, Father Stephan Brown.
Participants included Senator Darryl Rouson, Major Matthew Mckinney with the St. Petersburg Police Department, recording artist Alberto Salu Maisonet, and Rev. Kenneth Irby, pastor of Historic Bethel AME Church and Director, Community Intervention & Juvenile Outreach, St. Petersburg Police Department. Jordan Baker (16) and Keonte Howard (21) were present to faithfully represent black youth in the discussion.
All present seemed to be in agreement with Major McKinney that the protests in response to Geroge Floyd's death are reflective of the community "expressing their disapproval" of a grave injustice. "This is something that we got to see the agony of it all, from start to finish," said McKinney, "The protest has to take place to show America, to show that the system is not working."
However, all expressed that much more needs to be done. According to Howard, "We need a full measure which leads to changing hearts and minds." Senator Rouson was pressed to articulate how moving from anger to action, from hatred to hope is possible. Rouson expressed that this process is a matter of "weeding out bad apples." He continued, "I'm not mad at policemen. I'm not mad at policewomen. I'm mad at a policeman."
Rouson commended Chief Halloway for amending policy that punishes officers for being bystanders in instances of police brutality. He continued emphasizing the importance of rebuilding trust, of meeting, connecting, and establishing relationships among varying segments of the community. Baker added that he participated in protests and was thankful for the police officers who stood by him and were willing to dialogue on these important, contentious issues. He ended with, "This city is beautiful and I want to keep it that way."
Even though a host of heavy issues were brought to the fore, the conversation remained hopeful. Rev. Ibry pointed out that St. Petersburg is witnessing more peaceful protests because the city has already begun the hard work of reform, which has, "yielded great dividends in a time of crisis." Certainly, this conversation demonstrates that we have leaders in the city of St. Petersburg who are willing to do that hard work. "Something is happening in our world where people's hearts are beginning to change," observed Major McKinney.
The process towards peaceful, nonviolent change is sometimes slow, sometimes hard, sometimes disquieting, but the Community Forum demonstrates that this process is underway in St. Pete.
Article by Lillian Abadal