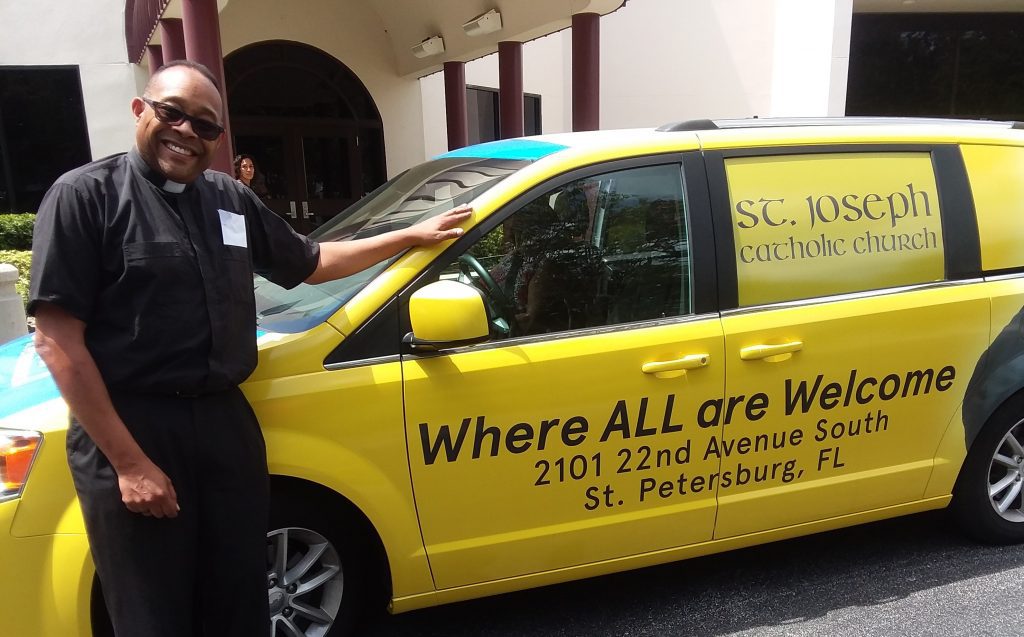 When Bishop Gregory Parkes asked Father Stephan Brown to serve as pastor of St. Joseph Parish in St. Petersburg, he asked him not to see the parish as it was, but as it could become.
Since that day in 2017, Father Brown has been envisioning a bold new future for St. Joseph that includes embracing diversity, ministering to those most in need, such as the poor and the young and offering more opportunities for prayer and worship.
St. Joseph is located in the Casler Heights neighborhood of low to middle-income families. In an effort to dream an extraordinary dream for the parish and to fulfill the mission of Courageously Living the Gospel, Father Brown has started many new initiatives and the local residents are starting to take notice.
Father Brown held a Vacation Bible Camp over the summer that included bible lessons in the morning and field trips to local attractions in the afternoon. He also started a food pantry for hungry families and a music program for the neighborhood youth with 30 children participating each week.
"It's a concrete way to serve the peripheries, the people in need. We also walk the neighborhood and pass out flyers and invite people to the parish," said Father Brown. "We are bringing people together."
The parish is a melting pot of ethnicities and cultures that includes African American, Italian, Polish, Irish, and Filipino. The parish will soon introduce its first Spanish Mass. He calls the parish diversity, the "face of the kingdom of God."
"We are seeking to let everyone know they are welcome," said Father Brown.
Looking to honor the Blessed Virgin Mary and seeking her intercession and inspiration, Father Brown has created a shrine at his parish for the Black Madonna of Częstochowa, patroness of Poland.
"She is a great symbol of unity to bring cultures and people together. It's a blessing that people find in St. Joseph a place they can call home, no matter their background, way of life, or language."
Upcoming Events at St. Joseph Parish, 2101 22nd Ave South, St. Petersburg
October 15, 22, 29 and November 5, 12 and 19 (Tuesdays evenings) 6:00 p.m. – 7:30 p.m.; St Joseph Catholic Church is having a Bereavement Seminar. The topics covered are Grief, Mourning, Unresolved Grief, Stages of Mourning, Steps to Survival, Rebuilding our Lives after Loss and How to handle upcoming Holidays Without Loved Ones. Please contact Patty Van Alstine at 727-434-0324, pattyvanalstine@gmail.com, if interested in attending.
Sunday, October 27, 8:00 a.m.
St Joseph welcomes the Spanish community to its first-ever Spanish Mass at 8:00 a.m.
All are welcome.
Thursday, October 31, 5:00 p.m. to 9:00 p.m.
First-Ever St. Joseph Parish Block Party
Trunk or Treat, Food, Candy, Fun and Gospel Rap