St. Raphael Parish Welcomes New Catholics into a Loving Community of Faith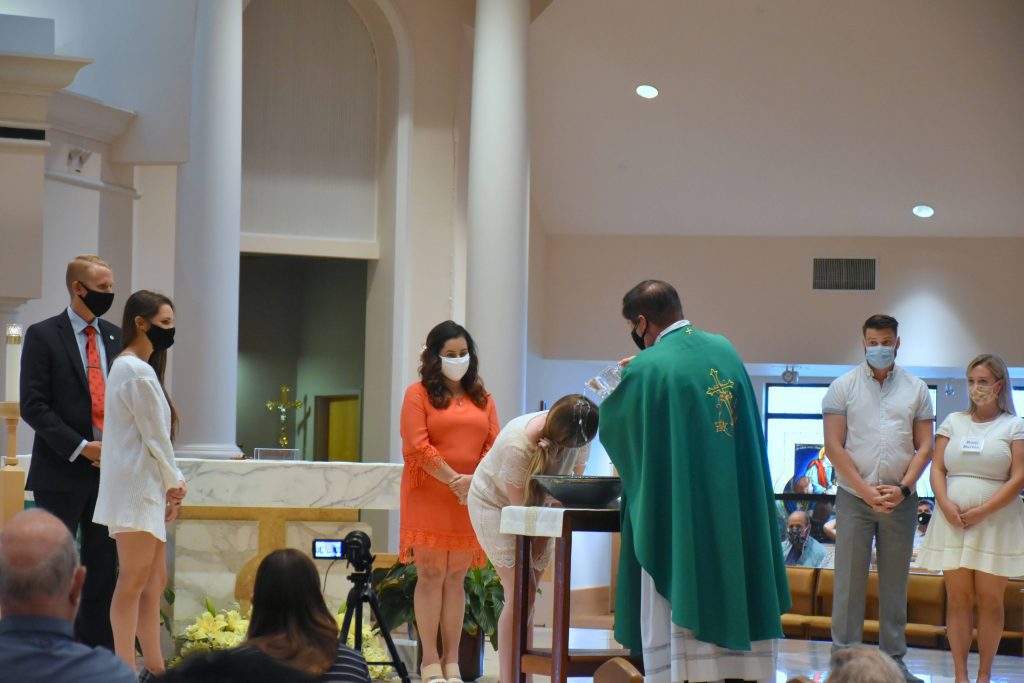 On Saturday, July 25, Rosie Burton and two other individuals received the Sacraments of Initiation, (Baptism, Confirmation and First Holy Communion) at St. Raphael Parish and became Catholic. It was a joyous event, although the celebration looked different than what was expected. Their special day had been postponed from the Easter Vigil due to the pandemic, they were unable to use the baptismal font due to safety restrictions and smiling faces could only be partially seen behind masks. But despite social distancing, Burton said as she looked out over the congregation, she felt a closeness to everyone there.
"People were distant but the church is so big that we really had a great amount of people there to help welcome us," recalled Burton. "You could feel the love in the air."
St. Raphael's is a tight-knit, family of families journeying this Christian life together. In 2018, they decided to put a greater emphasis on involving parishioners in witnessing their faith and living the call to be missionary disciples, as part of Courageously Living the Gospel
"I think what helps our new Catholics courageously live the Gospel, is being inspired by other parishioners who are already doing that," explained Lynn Edmonds, Director of Faith Formation. "When people share their stories, it gives others a vision of how faith can be lived."
Burton, who did not grow up with any faith community, began attending Mass with her then-boyfriend, Tommy, and his parents several years ago. While she was drawn to the beauty of the prayers and the music, she said it was watching Tommy's parents daily living of their faith that made her want to be part of it. Once she and Tommy married and prepared to start a family, she knew the time was right.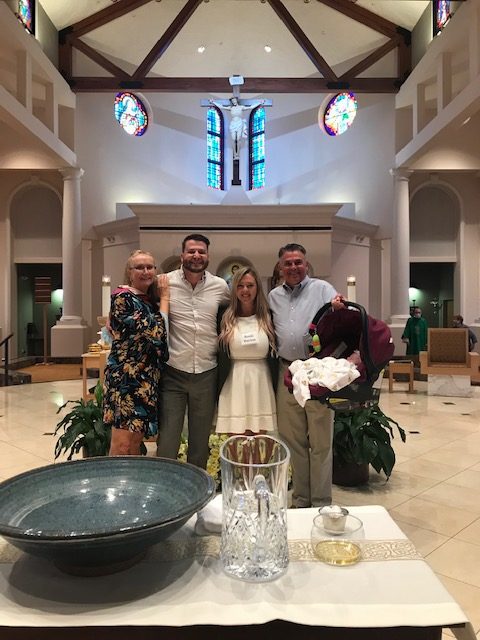 "It was just the way they live their lives; always saying prayer before dinner, so generous and caring and loving and giving, and seeing the way they love each other and love God made me want to be a part of the Church. They led me to where I am right now," said Burton. The couple are now looking forward to having their marriage blessed in the Church and celebrating their daughter's upcoming baptism.
This past year the church added Zoom calls to the formation program for catechumens and candidates to help parishioners share stories with those exploring the Catholic faith. They specifically share how Christ is touching their lives through the Eucharist.
"The Zoom calls were great because you could be in the comfort of your home and get to know people and share stories. It was really nice to get to know people on a personal level," said Burton.
The parish also had reason to celebrate on Saturday, August 2nd, when four individuals who grew up different Christian denominations, were received into Full Communion with the Catholic Church.