Students Find Relief in New Sensory Room at Morning Star School in Pinellas Park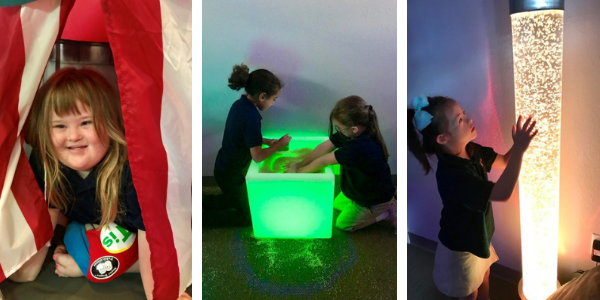 Four years ago, Principal Susan Conza had a dream of building a Sensory Room for her students at Morning Star Catholic School. Now, it's finally here and helping to calm and soothe children with autism and learning difficulties. The children are immersed in an environment that engages their senses to help them self-regulate when their nervous systems are over stimulated.
"When a student's nervous system is overwhelmed this room is designed to help them regain control," said Conza. "The children may also choose to go to the sensory room as a preferred activity."
Another benefit of the Sensory Room is that children have a safe space if they become overwhelmed.
"We want to respect the privacy of children who need time and space to modulate their nervous system," added Conza.
"Under the direction of an occupational therapist, the sensory room experience provides therapeutic benefits as well as helping children to improve fine motor and gross motor skills with movement activities.
The Sensory Room was designed with consultation from an occupational therapist and funded by donations from families and local businesses. It includes a bubble tube, water table, rice table, fiber optic lights, compression canoe, sound machine, large stuffed animals and more.
About Morning Star Catholic School
Morning Star Catholic School in Pinellas Park is a Diocese of St. Petersburg school that offers a full academic program from elementary to high school for students with learning disabilities and related learning difficulties. The goal is to help each child develop academically, spiritually, socially, emotionally and physically in a caring environment.
Morning Star looks beyond labels to see and serve each child as a gift from God. There are many pathways to success. Morning Star seeks to help every student realize their dreams of the future.
The Diocese also operates a Morning Star Catholic School in Tampa.