Surveys Provide Valuable Feedback for Courageously Living the Gospel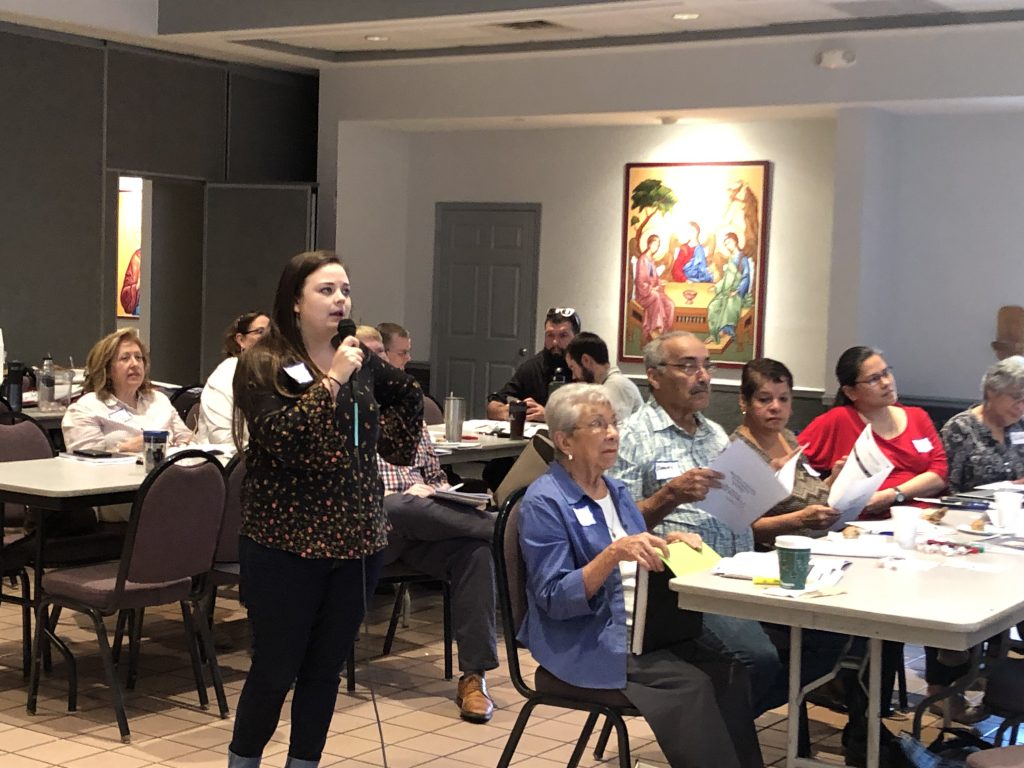 Parish leaders are meeting throughout the month of February to review the results of a survey that provides insight into how they are fulfilling  the mission of the Church that Jesus proclaimed in Matthew 28:19, "Go, therefore, and make disciples of all nations."
Last Fall, 30 parishes in the Diocese of St. Petersburg participated in the survey called "Disciple Maker Index," which was developed by the Catholic Leadership Institute (CLI).
CLI has collected and analyzed more than 100,000 surveys nationwide and has been able to demonstrate what impacts a church's ability to make disciples.
"The purpose of the Disciple Maker Index is to provide a tool that will help us equip and call forth disciple-makers – people who bring others to know Jesus," said CLI facilitator Deacon John DiTaranto.
For example, the survey asks how often someone has shared their faith story, invited someone to Mass, prayed with someone and recommended their parish to someone.
The survey points out strengths and opportunities and provides one source of direction as parishes decide what strategies they will implement to achieve the goals for Courageously Living the Gospel. Some parishes, such as St. Lawrence in Tampa, have also arranged listening sessions for additional insights.
"All of this input is important so that we are not making plans in a vacuum," said Neil Kennedy, who is leading the Courageously Living the Gospel initiative at St. Lawrence.
The survey is one way the Diocese of St. Petersburg is spreading awareness for Courageously Live the Gospel and the call it represents for each baptized Catholic.
"This is reaching into the hearts of our parishioners in a personal way," said Mylene Taylor, Our Lady of Grace Parish Youth Minister.
In addition to learning how to interpret the survey data, parish leaders are reflecting on what Jesus is calling them to do in response to the survey results and how they will help parishioners grow in their spiritual journey despite challenges that may cause them to become discouraged.
Attendees are also learning the steps for creating a Parish Action Plan and ways to communicate with clarity.
The goals for Courageously Living the Gospel are a response to feedback from listening sessions with Bishop Gregory Parkes in 2017. The three parish goals are:
One hundred percent of parishes will establish and/or enhance youth ministry opportunities by July 1, 2020.
Every parish will equip parishioners as Missionary Disciples who are inspired to invite and accompany others by Pentecost 2020
All parishes will enhance or establish family ministries to respond to the diverse needs of families by Pentecost 2020.
All parishes have been offered training and support from Catholic Leadership Institute and the Diocese of St. Petersburg Pastoral Center. Parish teams have been formed to research their specific needs and to develop a plan for alignment with Courageously Living the Gospel. Parish Action Plans are due to Bishop Parkes by March 1, 2019.