Teens Make a Difference During Week One of the Good Samaritan Project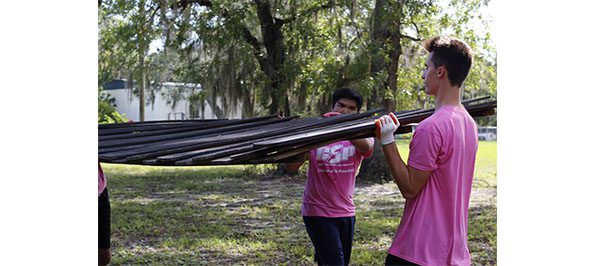 Teens from around Tampa Bay have chosen to spend part of their summer vacation serving others as part of the Good Samaritan Project (GSP), a week-long service retreat located in our diocese. During GSP, middle and high school teens from around the Diocese work, pray, and have fun together for the betterment of the community and the Glory of God. This year, two weeks of the program are taking place. The first week was June 24 through 29 and the second week is July 8 through 13. 
During the first week, teens made a difference at service sites in Pasco and Hernando Counties despite the sweltering heat. "These kids were seriously working and getting things done," said Amy Suarez, Education Director of Hope Youth Ranch in Hudson. The Ranch is a nonprofit school for children with autism and other special needs located on a farm like setting. The large property requires a lot of upkeep that can be costly. This is the fourth year students from the GSP have volunteered to lend a hand. This year they painted, mulched, and moved a fence on the property.
"They have been such a blessing," said Suarez. "It was wonderful to have them here helping us."
During the second week of the GSP, 80 teenagers, 15 college leaders, and 20 adult chaperones will be serving at St. Vincent de Paul Society soup kitchens in St. Petersburg and Clearwater, Pinellas Hope, and a variety of other agencies that help meet the need of the homeless and less fortunate in Pinellas County.
The Good Samaritan Project started in 2012 with summer service projects in Pasco-Hernando Counties. There are 240 volunteer teenagers serving this week at a variety of agencies in the area including: Metropolitan Ministries, the Volunteer Way, Sunshine Christian Housing, Notre Dame Catholic School, Safety Town (which is run by the Pasco Sheriff's Office), the Angelus, Youth and Family Alternatives (a foster care agency), Gulfside Hospice, Sunrise Domestic Violence Center and others. There is also a team of 20 young adult college leaders and roughly 40 adult chaperones assisting with this effort.