Christus Vivit and Young Hearts that are Witnesses of Justice and Peace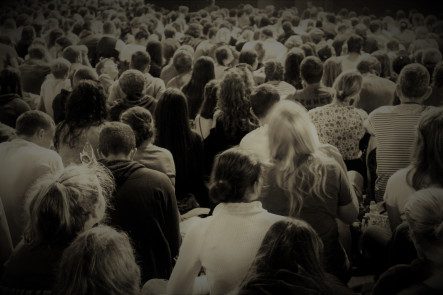 As a parish youth minister for more than a decade, I know well the innate desire for justice and the natural ability to create change that is inherent within many youth and young adults. They know injustice when they see it and want to say or do something about it. In his recent Post-Synodal Apostolic Exhortation Christus vivit, Pope Francis goes so far as to claim that young people have a "young heart" that allows them to not only see injustice for what it is but also to have both the hope that something can be done and the creativity to solve the problem.
Holy Ground
Youth is a time of training, a time to practice doing what disciples of Jesus do, namely, "living in the midst of society and the world in order to bring the Gospel everywhere, to work for the growth of peace, harmony, justice, human rights and mercy, and thus for the extension of God's kingdom in this world" (no. 168). This is the vocation of all Christians, but it is essential to the growth of young people that they practice this lifestyle of justice so as to cultivate the incipient virtues already found within them.
In Christus vivit, Pope Francis has made quite a statement about young people in general, and specifically with regard to youth and justice. In fact, he has such a high regard for youth and young adults that he says, "Each young person's heart should thus be considered 'holy ground', a bearer of seeds of divine life, before which we must 'take off our shoes' in order to draw near and enter more deeply" (no. 67).
Three Qualities Inherent to the Young Heart
But what do we find when we meditate on the sacred space of young people? Here are three inclinations toward justice and peace that Pope Francis finds present in a youthful heart, and which ring true in my experience.
Fraternal Love: First, he says that one of the key indicators that a young heart is following the path of Christ is that it grows in what he calls fraternal love. Avoiding the temptation to isolate ourselves or become jaded by "a world so full of violence and selfishness" (no. 168), we must come out of ourselves to love and serve others. "We grow in wisdom and maturity when we take the time to touch the suffering of others" (no. 171), and such encounters help young people grow in fraternal love. The desire for such fraternal love, and the readiness to embrace it, is instinctive for young hearts.
Protagonists of Change: Secondly, when full of fraternal love, young hearts "want to build a better world . . . The young want to be protagonists of change. . . . to fight apathy and to offer a Christian response to the social and political troubles emerging in different parts of the world" (no. 174). Within the nascent hearts of young people lies both the desire and potential to act, to do something, to heroically stand on the side of the oppressed, the voiceless, or the outcast. Young people only need to be encouraged and empowered by the adult mentors in their lives to "fight for the common good,
The Joy of the Gospel: In making a stand and becoming protagonists of change, young people begin to experience the joy of the Gospel. "God loves the joy of young people. He wants them especially to share in the joy of fraternal communion, the sublime joy felt by those who share with others . . . Fraternal love multiplies our ability to experience joy, since it makes us rejoice in the good of others (no. 167). Pope Francis says that fraternal love leads to a real form of ecstasy, a coming out of one's self that culminates in joy. When we serve, when we stand on the side of the poor and speak up for those who have been marginalized, we come to know the ecstatic joy of the Gospel. "Social engagement and direct contact with the poor remain fundamental ways of finding or deepening one's faith and the discernment of one's vocation" (no. 170). Young people already possess a natural joy within them and living their true vocation from the Lord brings the deepest joy imaginable.
The Good News for Youth and Adults Alike
These are qualities and callings particular to a "young heart," and Pope Francis says in no uncertain terms that the adult Church can have either a young heart or an old and withering heart. It is possible for the old to remain young at heart, and this is not a platitude but a requirement of adult disciples and for the Church at large. "[Young people] can keep [the Church] moving forward, prevent her from being proud and sectarian, help her to be poorer and to bear better witness, to take the side of the poor and the outcast, to fight for justice and humbly to let herself be challenged" (no. 37).
Chapter Four of Christus vivit is really the heart of the whole document in which you can hear Pope Francis' challenge to emulate those among us who possess a "young heart". He exhorts the whole Church to know deeply that we are loved by God, that it is Jesus Christ who saves us, and that Christ is alive and present to us right now. The Holy Spirit is always at work, changing, challenging, and empowering us to live the Gospel. If we give our lives to Christ Jesus, if we sacrifice ourselves in fraternal love so as to walk with and bring about concrete change in the daily lives of those who suffer, we will find our most personal vocation and purpose. We will know the joy of the Gospel and bring hope to the world.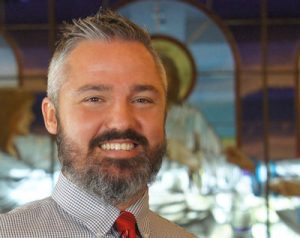 With 13 years of experience in full-time youth ministry and a Master of Divinity from the University of Notre Dame, Mike Buckler has presented at churches, trainings, and conferences on both youth ministry and Catholic social teaching. He currently serves as Regional Associate Director of Youth and Young Adult Ministry for the Diocese of St. Petersburg, and both he and his wife Megan serve as Catholic Relief Services Fair Trade Ambassadors. They live with their four kids on the north side of Tampa.
Going Deeper!
 How can you work to cultivate a "young heart" with youth and young adults as well as the rest of your parish community? Check out the Two Feet of Love in Action and explore two distinct, but complementary ways we can put the Gospel in action.