Thanksgiving Message from Bishop Gregory Parkes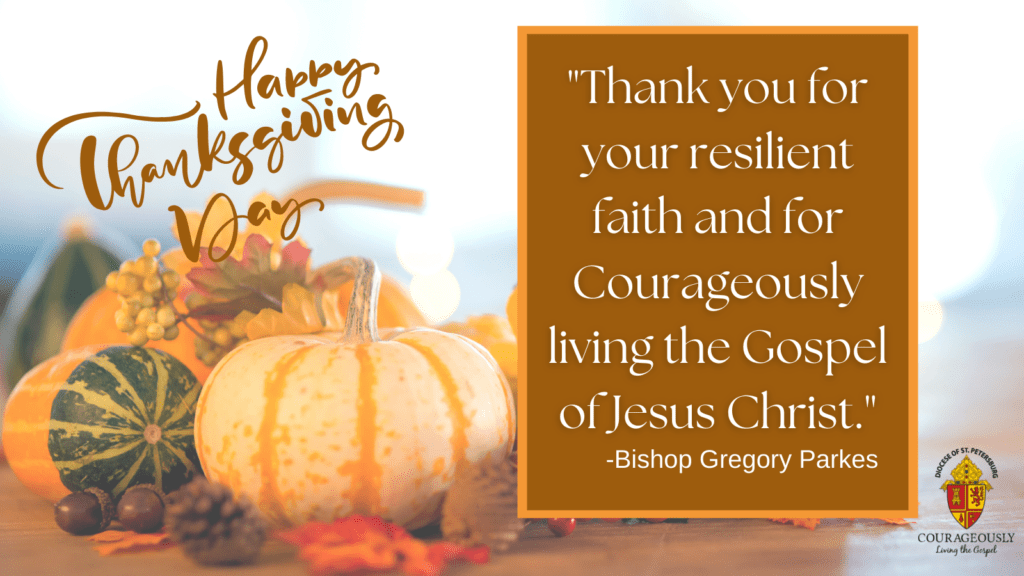 Dear Brothers and Sisters in Christ,
What am I thankful for this year (and always)? You! You, who are a part of the family of God. Each of you is a gift to our local Church. By your prayer, sacrifice, love, and concern, you live out the mission of Christ to build the Kingdom of God. Even in the midst of challenges and a global pandemic, you lift high the Cross, the sign of Christ's victory over death. I am inspired by your devotion to the Eucharist, the saints, charity, justice, our Blessed Mother, and all in this world that is good, beautiful, and true.
As I reflect on Thanksgiving and all the blessings we've experienced this year, I am hopeful about our future. While our world has always known suffering, it has also always known joy. God transforms our world and makes all things new (Revelation 21:5).
Thank you for your resilient faith and for Courageously living the Gospel of Jesus Christ in your homes, schools, churches, communities, hospitals, homeless shelters, farms, factories, businesses and wherever God may lead you.
"I give thanks to my God always on your account for the grace of God bestowed on you in Christ Jesus, that in him you were enriched in every way" (1 Corinthians 1:4-5).
Happy Thanksgiving, and may God bless you!
Sincerely yours in Christ,
Most Reverend Gregory Parkes
Bishop of St. Petersburg
---
Estimados hermanos y hermanas en Cristo,
¿Por qué estoy agradecido este año (y siempre)? ¡Con ustedes! Ustedes, que son parte de la familia de Dios. Cada uno de ustedes es un regalo para nuestra Iglesia local. Con su oración, sacrificio, amor y afán, ustedes viven la misión de Cristo de construir el Reino de Dios. Incluso en medio de los desafíos y de una pandemia mundial, levantan en alto la Cruz, signo de la victoria de Cristo sobre la muerte. Me inspira su devoción a la Eucaristía, los santos, la caridad, la justicia, la Santísima Virgen y todo lo que es bueno, bello y verdadero en este mundo.
Al reflexionar sobre el Día de Acción de Gracias y todas las bendiciones que hemos recibido este año, siento esperanza en nuestro futuro. Aunque nuestro mundo siempre ha conocido el sufrimiento, también ha conocido la alegría. Dios transforma nuestro mundo y hace nuevas todas las cosas (Apocalipsis 21,5).
Gracias por su fe resiliente y por vivir valientemente el Evangelio de Jesucristo en sus hogares, escuelas, iglesias, comunidades, hospitales, refugios para personas sin hogar, granjas, fábricas, negocios y todo lugar a donde Dios los envíe.
"Continuamente agradezco a mi Dios los dones divinos que les ha concedido a ustedes por medio de Cristo Jesús, ya que por él los ha enriquecido con abundancia en todo". (1 Corintios 1,4-5).
¡Feliz Día de Acción de Gracias y que Dios los bendiga!
Atentamente y suyo en Cristo,
Reverendísimo Gregory Parkes
Obispo de St. Petersburg