The Cathedral of St. Jude the Apostle Announces First-Ever ADORE Event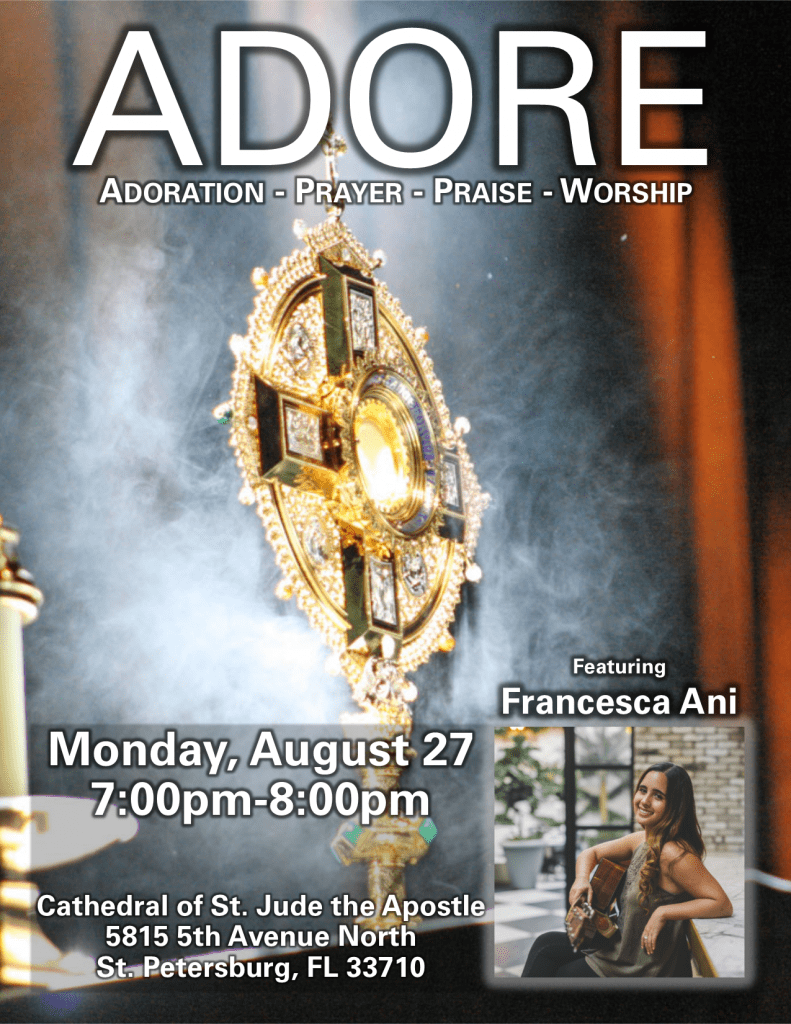 On Monday, August 27 from 7:00 pm-8:00 pm all are invited to the Cathedral of St. Jude for ADORE, an evening of Eucharistic Adoration and prayer accompanied by contemporary praise and worship music.
"ADORE is a time of adoration, prayer, praise, and worship intended not only for our parish community but for all people within the Diocese of St. Petersburg! Because we believe that everyone in the Diocese is a part of our community, we want everyone to encounter Christ in this new, exciting, and holy event," said Father Alex Padilla, parochial vicar, Cathedral of St. Jude.
The Music Minister for ADORE will be Francesca Ani, a long-time professional musician and an up-and-coming talent in the Contemporary Christian Music scene.
"We are excited to have Francesca Ani lead the People of God in adoration and prayer through her exceptional musical ability," added Father Padilla.
What: ADORE Eucharistic Adoration
When: Monday, August 27, 7:00 pm – 8:00 pm
Where: Cathedral of St. Jude the Apostle (5815 5th Avenue North, St. Petersburg, FL 33710)
To hear some of Francesca's music check out her YouTube Channel https://www.youtube.com/channel/UCL9_md6DVyzz_aTx3zuLdDw and
Facebook Channel https://www.facebook.com/FrancescaAniii/
Click here for flyer.