Transfiguration Parish Community Experiences Loss and Transformation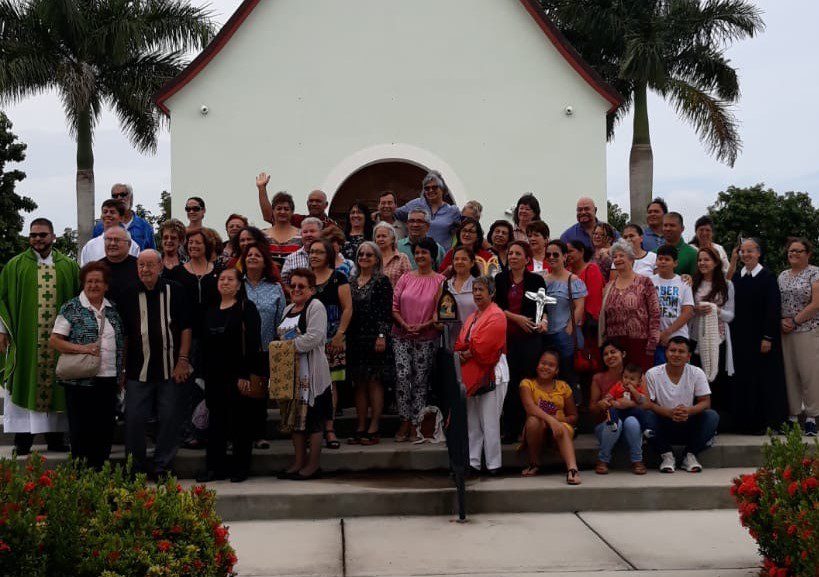 Transfiguration Parish will close on October 21, 2019 and will reopen in 2020 as Holy Martyrs of Vietnam Parish.
When Father Carlos Rojas learned that his parish, Transfiguration, would be closing its doors, he went through a period of mourning, prayer and discernment. He agonized over what would happen to his tiny but mighty community of faith that had tried to sustain Transfiguration through difficult times. Because of shifting demographics and other factors, Transfiguration had experienced declining Mass attendance, acute financial challenges and the inability to make costly repairs to its aging parish facilities.
What Father Carlos Rojas did next, transformed him. He united his broken heart to the Blessed Virgin Mary's heart that was pierced by a sword (Luke 2:35). He offered his suffering to the Lord and he allowed God's love to heal him.
Then he set out to heal others and empower them to be missionary disciples.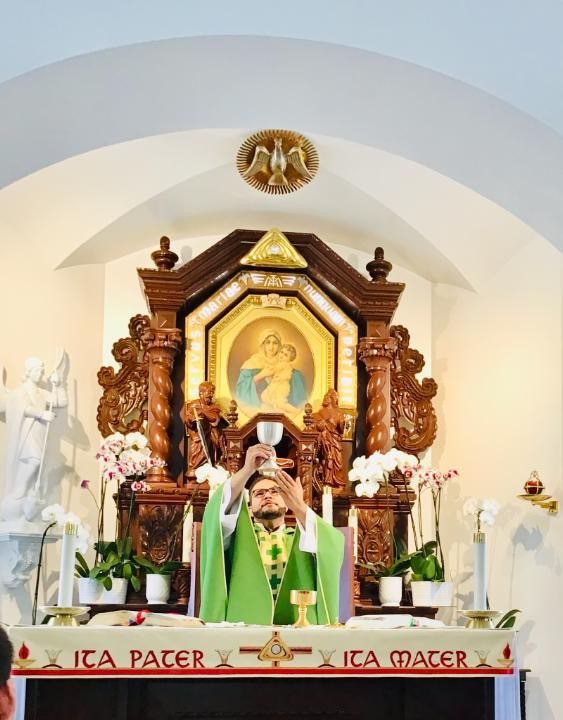 "Through prayer, we are working through our sense of spiritual abandonment to renew our faith in God's love and goodness. We are surrendering to the Father's love and believing that something greater awaits us," said Father Rojas.
Since the announcement of the closing in July, Father Rojas has met with parishioners weekly for prayer, study and faith sharing. This sacred space has allowed God to enter into their loss and tenderly carry their burdens.
Jenny Nolasco, 46, a mother of four, has been a parishioner of Transfiguration for 20 years. She attends the Spanish Mass and calls her fellow parishioners family. Her first reaction to the parish closing was one of sadness and anger.
"When the news came, it hit me hard, very hard. To see my family suffering, that was the hardest, to see the pain, the tears, the emotions," said Nolasco.
To overcome a sense of spiritual homelessness, Father Rojas introduced his parishioners to the Schoenstatt Apostolic Movement, a Marian spirituality founded in Germany. The Movement invites families and individuals to make a covenant of love with the Blessed Mother and to dedicate space in their homes for Mary, known as a "home shrine."
In September, a group of parishioners participated in a pilgrimage to Our Lady of Schoenstatt Shrine in South Florida. They will consecrate themselves to Mary on October 18, 2019. Then, every month on the 18th, they will gather to continue the relationships and bonds they have formed and to share their experiences. They will take what they have learned through this process and help others grappling with loss and pain.
The process has helped Nolasco to soften her heart and to accept God's will, although it still hurts.
"I have gone through the darkness to see the light, to see that God the father is my father and that I am His beloved daughter. I have come to see Mary as my mother and felt her embrace and love," said Nolasco.
Father Carlos said his parishioners have been given a mission. Those who have accepted the mission have been strengthened by grace and faith to carry it out.
"These parishioners have been empowered to share their faith and bring healing to others as missionary disciples. Their hearts were pierced by the will of the Father, but they know God is working something greater for them. They are able to help people in the midst of suffering," said Father Rojas.
A Warm Welcome
Nearby parishes have reached out enthusiastically to welcome the parishioners of Transfiguration who are seeking a new church family.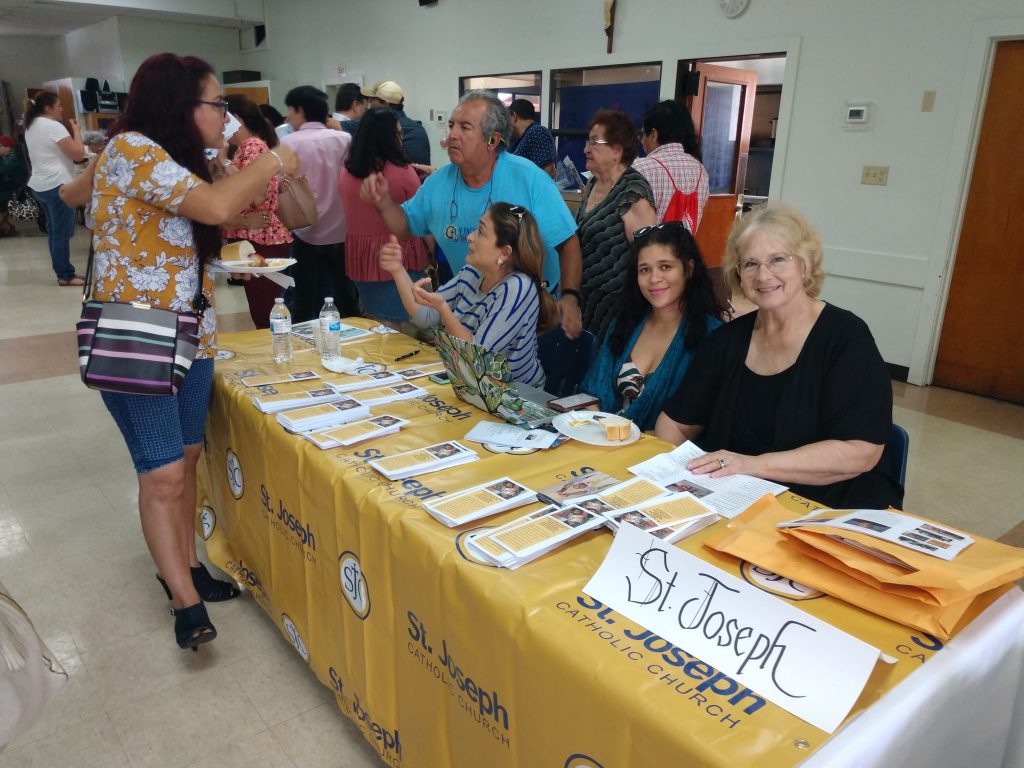 In September, five local parishes set up tables in the parish hall at Transfiguration after weekend Masses to share information, answer questions and invite parishioners to visit for a warm welcome.
Two of the parishes are starting new Spanish Masses to accommodate members of the Spanish-speaking community of Transfiguration.
Effective October 27, 2019, St. Catherine of Siena in Clearwater will have a Spanish Mass on Sundays at 2:30 p.m. and St. Joseph Parish in St. Petersburg will offer a Spanish Mass on Sundays at 8:00 a.m.
Honoring the Past
To remember the 60-year legacy of Transfiguration Parish, a memorial garden has been established on the property and the cross, located at the entrance to the church, has been relocated to the garden where the community can gather for prayer and remembrance. Also, a Legacy Wall will be established in the Parish Center so that the memory of the Transfiguration Parish community will endure.
Regarding the merger of Transfiguration and Holy Martyrs of Vietnam Mission, Bishop Gregory Parkes said: "The decision to merge these two Catholic communities and to close Transfiguration Parish was not made easily. Rather, it was through careful consideration of the spiritual and pastoral needs of the affected parishioners. There is some good news in that this place of worship will continue to be a visible sign of Christ's love to the surrounding community."
Important Dates at Transfiguration Parish:
Friday, Oct. 18, 6:30 p.m., Consecration to Mary and Rosary, 7:00 p.m. Mass
Saturday, Oct. 19, 2:30 p.m. – 9:00 p.m., Parish Festival, "Celebrating 60 Years of Legacy" and Showcase of Local Parishes with Cultural Presentations, Music, Food and Entertainment
Sunday, Oct. 20, 12: 30 p.m., Last Mass Celebrated under the Name Transfiguration, (Spanish)
About Holy Martyrs of Vietnam Parish:
In the Spring of 2020, the church currently known as Transfiguration will reopen as Holy Martyrs of Vietnam. Masses will be celebrated in Vietnamese and English. Holy Martyrs of Vietnam is currently a pastoral mission that is worshiping at 9099 90th Ave. N., Largo.