Two New Books Written by Local Priests
The Storyteller's Catechism by Father Timothy H. Sherwood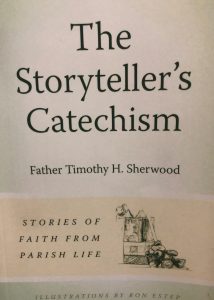 An increasingly secular world has made our search for God more challenging. But the basic message of this book is that God also searches for us; that the awareness from faith reveals manifestations of the Divine Presence. Parish priests are privileged to have a daily front-row seat to observe the Divine Presence in action. The true stories told in the book reflect just a few of the many parish experiences of God by one priest in the unique and sometimes quirky setting of St. Petersburg, Florida.
Father Sherwood is the pastor of St. Raphael Catholic Church and School, St. Petersburg. He is the author of two previously published books on the preaching of Archbishop Fulton Sheen. You can hear a podcast interview with Father Sherwood discussing his new book below.
---
Get Thee behind me, Satan: Rejecting Evil by Father Kevin E. Mackin, OFM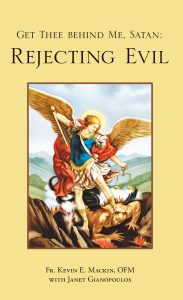 There's no denying a cultural fascination with evil. Blockbusters like The Exorcist and Rosemary's Baby, and their many recent successors, are but a snapshot of the interest. What are the biblical facts about evil, demonic possession and the exorcisms by Jesus? How can everyday folks recognize and avoid the snares of Satan?
In "Get Thee behind Me, Satan: Rejecting Evil" Father Kevin E. Mackin, OFM draws on his experience as a priest, college president and professor, to share religious studies as a helpful guide for preachers, catechists, and laypersons. The book offers a unique reader-friendly look at church history, biblical sources and understandings of Satan, exorcisms, the "kingdom of God," faith formation, and keeping the devil away.
"It can be used as a companion to Pope Francis' book on 'rebuking the devil' which is a collection of the Holy Father's talks," explains Father Kevin, who gives the reader direct citations of biblical passages related to the topic, plus more contemporary insights.
Father Kevin is a member of the Franciscan community at St. Anthony's Friary in St. Petersburg, Florida, serves at St. Raphael Catholic Church, and is a chaplain for the St. Petersburg Police Department. He's also a member of the special works board for the Society of St. Vincent de Paul. He holds degrees from St. Bonaventure University, Siena College, and Catholic University of America, including a doctorate in sacred theology cum laude.
He has also published numerous articles and books, including "A Spirituality for Sunday People" (2017), "Integrity: Living God's Word" (2018), and "Enjoying God's Gifts" (2018).
"Get Thee behind Me, Satan: Rejecting Evil" by Fr. Kevin E. Mackin, OFM (WestBow Press, 2019, ISBN 978-1973669920) is available now in paperback and e-book format from booksellers including Amazon, Barnes and Noble, and WestBow Press Bookstore.
Fr. Kevin's reflections are highlighted at www.afranciscanjourney.blogspot.com