Uplifting Spirits: Local Deacon Serves Travelers at Tampa International Airport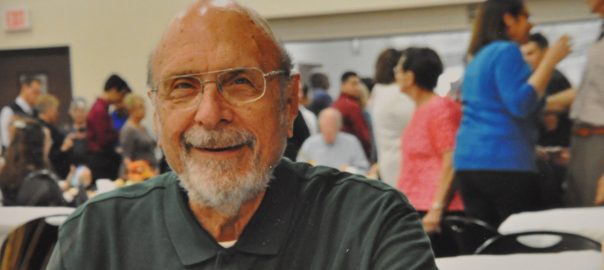 Reflection by Deacon Joseph Krzanowski, CAC
As a deacon who serves as a chaplain at Tampa International Airport, I am privileged to meet many people who have various needs. I think back, for example, to a woman who was standing near the Traveler's Aid window. She was with her son who was fast asleep. As we talked, it became clear that she was stranded in Tampa. Her son was playing soccer in Florida. They were scheduled to fly out of Orlando about 90 miles away. Their flight was canceled, and they were directed to go to Tampa for another flight. That flight was canceled as well. She had returned her rental car and had no money. I was able to direct her to connect with the right resources for food and support to get her to her final destination. I'll never forget what she said, "I was praying to God for help, and you (an airport chaplain) showed up." At that moment, I realized how grateful I was to have the opportunity to serve God's people on the move as a deacon.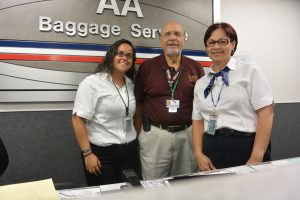 Certainly, deacon-chaplains meet and help distressed people in the setting of an airport, but there are also many other forms of ministry and service. So often, people are genuinely glad to see a "religious presence" in what has become the extremely stressful situation of air travel. They want a prayer or a blessing. They may need a word of encouragement. Sometimes, people travel in grief, because a loved one has died, and they look for consolation. Frequently, an airport chaplain works not only with travelers but with airport workers who so much need support and encouragement in their complex and stressful positions. Sometimes, chaplains lead people to sacramental celebrations, for example, Mass celebrated in an airport chapel or the sacrament of Penance.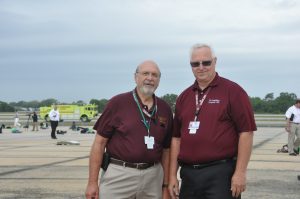 Airport chaplaincy cannot involve proselytizing. Airports are public spaces, and there is a history of difficulty with religious groups trying to recruit new believers in what must remain a religiously neutral spot. At the same time, in so many ways that are often subtle, evangelization can take place. The evangelization of quiet witness and of charity and compassion is real and effective. That kind of evangelization can and does take place through chaplaincies.
Airport chapels exist in many United States airports, although not all, and in many parts of the world. The first chapel in the United States was established by Cardinal Cushing at Boston Logan International Airport in 1951.
The National Conference of Catholic Airport Chaplains (NCCAC), headquartered at Chicago's O'Hare International Airport, was established in 1986 by the USCCB. It is a professional organization that exists to be a spiritual and theological source whose purpose is to teach and witness to the word of God and to serve His people by fostering their growth and renewal through prayer, study, and Christian service for the airport personnel and travelers. The NCCAC's purpose is to provide support and inter-communication for all Catholics performing pastoral ministry to airport workers and travelers.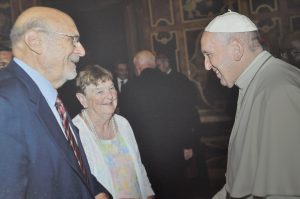 Catholics should be aware of the priority that Pope Francis (and several of his predecessors) have placed on airport chaplaincy as an outreach of the Church's mission. Pope Francis recently relocated airport chaplaincy in the newly formed Dicastery for Promoting Integral Human Development. This year (June 10-13, 2019) I was privileged to join one of the periodic meetings of Catholic airport chaplains at the Vatican under the leadership of Cardinal Turkson. This was the 17th World Seminar of Catholic Civil Aviation Chaplains and Pastoral Agents. In addition to several presentations and an opportunity for chaplains to share experiences, the Holy Father met with the group and offered enlightening and encouraging words.
Pope Francis told the assembled chaplains at an airport: "Millions of people of different nationalities, cultures, religions, and languages daily cross paths with one another. Each has his or her own story, known only to God, with its joys and sorrows, its hopes and troubles. In this setting, you are called to bring the message and presence of Christ, who alone knows what lies hidden in the heart of each person, and to bring to everyone, whether Christian or not, the Good News of God's tender love, hope and peace. How much peace can be sown with just a sign, a word, a look!"
Pope Francis continued, "In airports, yours is primarily a presence of availability. You represent God's ever-present love in an environment crowded with people at work or traveling for a variety of reasons. . . You are present in their midst to offer, respectfully and discreetly, a chance for them to encounter the 'now' of God. For that one day, that single hour of transit is unique and unrepeatable. You are creative in finding constantly new ways to show pastoral charity to all, whether managers, employees or passengers. Your witness and the message you communicate in that particular moment can leave a life-long impression. Availability is itself a powerful form of witness."
I left the meeting in Rome renewed and newly enthusiastic for serving as a deacon-chaplain in an airport setting. To learn more about the Airport Chaplaincy, visit the National Conference of Catholic Airport Chaplains at www.nccac.us
May Our Lady of Loreto, patroness of air travelers, pray for us and for all who travel.
This reflection was written by Deacon Joseph Krzanowski, CAC, who was ordained for the Diocese of St. Petersburg on May 2, 1987. He serves as a chaplain at Tampa International Airport (Article was edited by Deacon Alfred Mitchell, CAC, Chaplain, Atlanta Hartsfield International Airport, Archdiocese of Atlanta)