Video of Pope Francis on "20/20"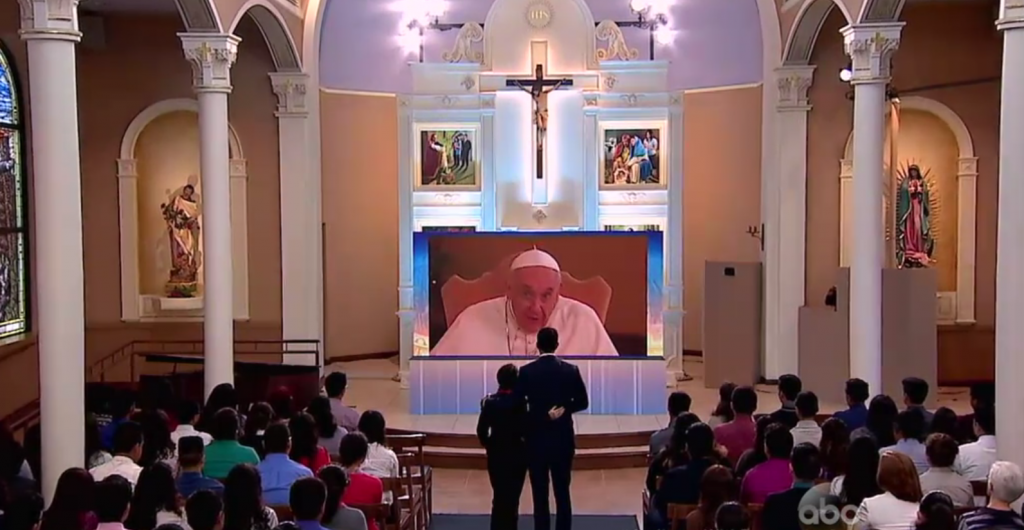 Pope Francis made a surprise visit to the United States via video teleconference. The Holy Father spoke with students at Christo Rey Jesuit High School in Chicago, with immigrants along the border at a parish in McAllen, Texas, and with a group of homeless on the streets of Los Angeles. The virtual audience aired on a broadcast of ABC's "20/20" on Friday, September 4, 2015.
Watch the full broadcast video in English and in Spanish below.
Full Video in English:
Full Video in Spanish:
---
Watch English video from the broadcast in six parts below (same video as above, just broken into parts).
Part 1: Pope Francis Asks Chicago Teen to Sing for Him:
Part 2: Pope Francis Calls Los Angeles Mother a 'Brave Woman':
Part 3: Pope Francis Uses Favorite Sport in Message to Texas Teen:
Part 4: In Surprise Moment, Pope Francis Asks to Speak to Texas Nun:
Part 5: Pope Francis' Upcoming Trip to the US:
Part 6: Those Who Spoke to Pope Francis Reflect on Powerful Moment: