World Youth Day 2019: Panama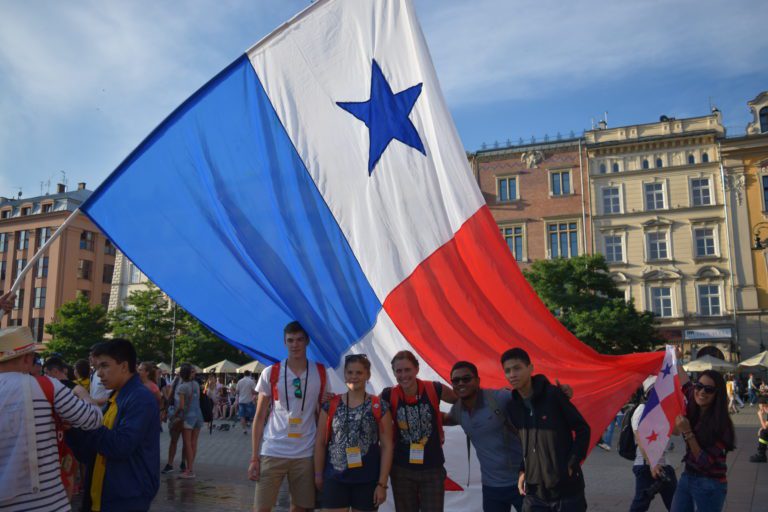 Have you ever considered participating in a pilgrimage with other young adults and Pope Francis to a World Youth Day?
World Youth Day (WYD) is a gathering of young people from around the world to celebrate the love of Christ for humanity. WYD is a powerful opportunity to gather with over 1 million young people from around the world who share your love of Christ and want to celebrate His mercy and love. You will be part of a huge, faithful, living witness of Christ's love to other young people.
International World Youth Day typically takes place during the summer, however, to avoid Panama's rainy season, WYD 2019 will take place January 22nd-27th, 2019.
World Youth Day 2019 in Panama will be in January instead of during the summer as is typical for WYD. Why? Since Panama sits very near the equator, the summer is especially hot and is also their rainy season. January is their dry season and also still warm and beautiful. Schools in Panama are also out from Christmas until early March, so it makes it possible for youth in that country to attend WYD while on break.
Some details about Panama itself:

Panama is 75-85% Catholic.
Panama uses the US dollar as their official currency.
Spanish is the official language.
Electricity is 110v, the same as the US.
There are 10 provinces and 5 native reserves in the country.
The weather is tropical. Average high/low in January is 88/68 F.
Panama hosts the Panama Canal, which brings a lot of income to the country.
Tourism accounts for 12.6% of the economy.
Panama City is a beautiful, modern city. Many hotels in the city are new within the past 5-10 years.