Worldwide Marriage Encounter Celebrates Golden Anniversary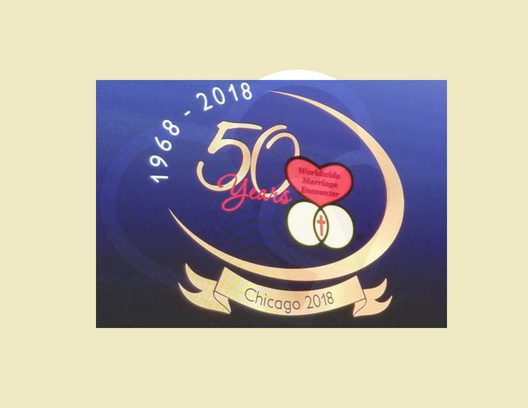 Local Worldwide Marriage Encounter leaders are planning a Marriage Anniversary Gala to celebrate the 50th anniversary of both the Diocese of St. Petersburg and the founding of the Worldwide Marriage Encounter movement. The gala will be held at Higgins Hall in Tampa on November 10, 2018, in partnership with Spirit FM.
The theme of their 50th anniversary is "We Remember, We Celebrate, We Believe." Tom and Margaret Krivchenia, Florida West Coast Encounter Leaders, attended the organization's 50th Anniversary International Convention in Chicago recently.  Over 1500 participants including 70 priests and 5 bishops gathered at the Westin Lombard Center in Yorktown.  They came from as far away as Korea and New Zealand.  All were united in the Mission of Worldwide Marriage Encounter to enrich marriages and strengthen families.
"At the convention, we recommitted our hearts, lives, and souls to Christ.  With the guidance of the Holy Spirit, we believe that we will continue to enrich marriages and strengthen families in the years to come.  The dream of our founder, Father Chuck Gallagher remains vibrant and alive more than ever today," said Tom.
Worldwide Marriage Encounter was founded in 1968 after Father Chuck Gallagher attended a Weekend retreat for married couples and priests in New Jersey.  He and several couples discussed the idea of forming a ministry that would present Worldwide Marriage Encounter Weekends.
Daily dialogue, sharing feelings, and the formation of a Marriage Encounter "Community" are important cornerstones of the Weekend and, renewing the Sacrament of Matrimony is seen as a way of renewing the Catholic Church.  Worldwide Marriage Encounter Weekends are given throughout the world from England to Belgium, to Canada and the Caribbean, to Korea, China, Russia, Cuba and the United Arab Emirates.  Weekends are given in Spanish, Korean and French as well as in English reflecting the diverse cultures.
Eleven other Faith Expressions are licensed by Worldwide Marriage Encounter to present the Weekends.
The Worldwide Marriage Encounter symbol was created in 1969.  It is intertwined wedding rings representing the husband and wife; the cross represents Christ and the Church; the heart symbolizes life and love.
Check your parish bulletins or wwme.org for Worldwide Marriage Encounter Weekends offered in your area.
Tickets for this Anniversary Event on November 10 will go on sale in August.  The event will include dinner, dancing, silent auction and more!  So, SAVE THE Date!  November 10, 2018!