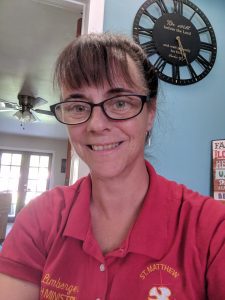 9111 90th Avenue North
Largo, FL  33773
Lisa Limberger, Youth Minister
Email: lisa.limberger@stmat.org
Phone: (727)393-1288, ex.207

We are courageously living the gospel and our faith in our daily living.
We Meet Sunday mornings from 9:15 until 10:45. We all go to the 11 a.m. Mass together. We all often sit together as a group with our youth ministry families.
Many of our youth ministry teens also participate in other areas of the Mass and within our Parish. We have teens who play instruments with the choir, teens who are altar servers and help our Usher's with offering collections as well as assist with children's Liturgy of the word.
Our Youth Ministry focuses on integrating our faith into our Everyday lives. We challenge our teens to find ways to use their relationship with Jesus Christ and each other to meet head on the challenges of being a teen in today's world.
We are Christ centered, faith driven, and actively providing service to our Parish, our community and each other.