Youth and Young Adult Ministry Office Seeks to Align with Courageously Living the Gospel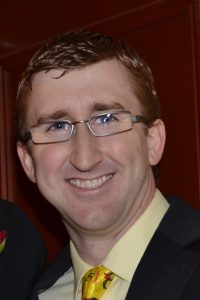 A major focus of our mutually-shared vision is to accompany youth and young adults to help them be courageous in their faith. Ryan Phelan, the Diocesan Director of Youth and Young Adult Ministry is tasked with helping parishes understand this process of accompaniment that is highlighted in the Vision.
Pope Francis has often spoken about what it means to accompany others. Shortly after he became pope in 2013, the Holy Father spoke to a group of Brazilian priests and said, "Dear brothers, let us … walk at the same pace as our pilgrims, keeping alongside them, remaining close to them, enabling them to speak of the disappointments present in their hearts and to let us address them…. eventually, they will experience thirst. We need a Church capable of accompanying them on the road back to Jerusalem!" This allusion to the Road to Emmaus story in Luke's Gospel evokes the accompaniment model that Pope Francis highlights as the model for all ministries.
In order to make a greater impact on the lives of young people in our diocese, one of Ryan's first tasks will be to recruit three new Regional Associate Directors of Youth and Young Adult Ministry. This initiative, one of the goals put forth by the vision, will enable him to expand the reach of his current ministry dramatically.
These new youth and young adult ministers will provide "boots on the ground" support to allow more personalized services to parishes to assist them with enhancing and in some cases, establishing, a youth ministry program, another goal included in the vision's action plan for Courageously Living the Gospel.
Ryan will also be developing and strengthening collaborative relationships with college campus ministry leaders to better ensure the accompaniment of young people through their college years.  In this way, bridges can be built that connect parishes and youth ministry programs with college campus ministry programs throughout the diocese.  These connections will help to maintain ministry continuity during the college years and back in parishes where the faith is lived and celebrated for a lifetime.
Ryan will also continue offering services to youth and young adults that are valued by parishes, such as professional development, mentoring, leadership support and event coordination such as World Youth Day, March for Life and the Good Samaritan Project.
"Our diocese has accomplished many wonderful benchmarks in youth, young adult, and campus ministry over the years. Yet, the diocesan vision is going to help us grow together as we unlock the future of youth, young adult, and campus ministry through expanded programming and training, greater interparochial collaboration, and seeking out new approaches to give our young Church an encounter of Jesus Christ. It is a great time to be working in youth ministry in the Diocese of St Petersburg," said Ryan.
To learn more about Youth Ministry, click here. To learn more about Young Adult Ministry, click here.