19 Lay Ministers Commissioned from LPMI and SEPI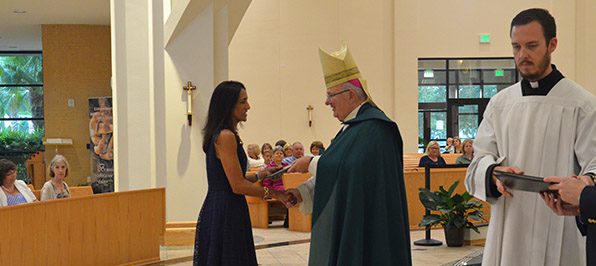 June 22, 2016 – The Diocese of St. Petersburg's Lay Pastoral Ministry Institute (LPMI) and the Southeast Pastoral Institute (SEPI) commissioned 19 lay ministers during an evening prayer service at the Cathedral of St. Jude the Apostle in St. Petersburg. Fifteen people from the LPMI and four from SEPI Level 2 were commissioned. In addition, thirty people received certificates for completion of SEPI Level 1 classes, although not all were present.
Photos from the evening prayer and commissioning service.
Learn more about LPMI here and SEPI here.
The LPMI class of 2016:
Eric W. Alvarez (St. Michael the Archangel Parish, Hudson)
Patti Andre' (Holy Family Parish, St. Petersburg)
Deb Close (St. Paul Parish, St. Petersburg)
Maria Cecilia Costa (St. Mary Parish, Tampa)
Stephen P. Douglas (Sacred Heart Parish, Pinellas Park)
Thomas E. Eckert (St. Michael the Archangel Parish, Hudson)
Kathleen Margaret Kirkpatrick (Holy Family Parish, St. Petersburg)
Luis A. Laurentin-Perez (St. Mary Parish, Tampa)
Jennifer L. McIlveen (St. Ignatius of Antioch Parish, Tarpon Springs)
Patricia Ann Meyer (Blessed Sacrament Parish, Seminole)
Mary Elizabeth Moore (Guardian Angels Catholic School, Clearwater)
Frances Morin (St. Ignatius of Antioch Parish, Tarpon Springs)
Mary M. Putnam (St. Matthew Parish, Largo)
Jeanne Marie Smith (St. Paul Parish, St. Petersburg)
Vivian Sola (St. Mark the Evangelist Parish, Tampa) 
SEPI Level 2 Certificates
Aracelis Acevedo (Nativity Parish, Brandon)
Nora Glavis (Our Lady of the Rosary Parish, Land O'Lakes)
Norman Angel Ortiz (Our Lady of the Rosary Parish, Land O'Lakes)
Ivelisse Simono (Blessed Sacrament Parish, Tampa) 
SEPI Level 1 Certificates
Cita Correa Meza (St. Clement Parish, Plant City)
Maria Courbis (Nativity Parish, Brandon)
Olga Fanzago (Our Lady of Lourdes Parish, Dunedin)
Jesús Galindez (St. Clement Parish, Land O'Lakes)
Nora Galvis (Our Lady of the Rosary, Land O'Lakes)
Martha Garcia (St. Francis of Assisi Parish, Seffner)
Emperatriz Gilbert (Nativity Parish, Brandon)
Margarito Hernandez (St. Rita Parish, Dade City)
Ana López (St. Lawrence Parish, Tampa)
Claudia Lopez (Resurrection Parish, Riverview)
Francisco Márquez (St. Clement Parish, Plant City)
Eliana Mena-Henrique (St. Paul Parish, Tampa)
Silvia Morales (St. Lawrence Parish, Tampa)
Hugo Nacianceno (St. Clement Parish, Plant City)
Manual Nieves (Nativity Parish, Brandon)
Luis Nuñez (Our Lady of the Rosary, Land O'Lakes)
Norman Angel Ortiz (Our Lady of the Rosary, Land O'Lakes)
Elena Pantoja (St. Michael the Archangel Parish, Clearwater)
Rosa Julia Quintana (Nativity Parish, Brandon)
Antonio Reyes (Nativity Parish, Brandon)
Irma Reyes (Nativity Parish, Brandon)
Roberto Romero (Resurrection Parish, Riverview)
Rosa Sabando (St. Cecelia Parish, Clearwater)
Ivelisse Simono (Blessed Sacrament Parish, Tampa)
Yolanda Solis Martinez (St. Cecelia Parish, Clearwater)
Yolanda Reynoso (St. Clement Parish, Plant City)
Lizbeth Valerio (St. Clement Parish, Plant City)
Silvia Velasquez (St. Francis of Assisi Parish, Seffner)
Aurelis Zambrano (St. Lawrence Parish, Tampa)
Manuel Zambrano (St. Lawrence Parish, Tampa)