Statement on the 43rd Anniversary of Roe v. Wade Decision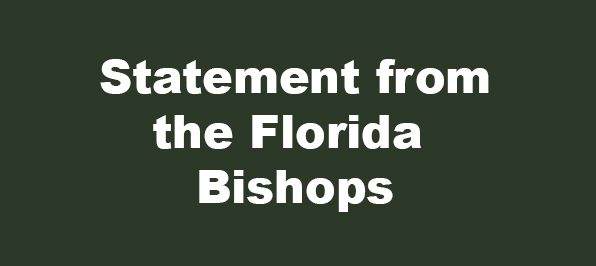 Saddened by yet another anniversary of the January 22, 1973 U.S. Supreme Court decision that legalized abortion, the Catholic bishops of Florida recognize in their annual Roe v. Wade statement the courage of lawmakers who this past year sought to reduce abortion in our state.
The bishops were deeply moved by the post-abortive women who came forward in committee hearings during Florida's 2015 legislative session to support a reflection period prior to abortion. "Their courage and willingness to shed light on the evil of abortion is commendable and reminds us of the unassuming, yet life-changing, work of our post-abortive ministries who invite the many men and women harmed by abortion to a process of healing and spiritual restoration," said the bishops.
"To call ourselves unequivocally pro-life requires that we always choose life, even when it most challenges us: whether encountering an unplanned pregnancy, ill and dying loved ones, the execution of a convicted criminal, or the stranger seeking refuge in our communities," state the bishops. "Recognizing we often fall short of this great task, we are jubilant that this Year of Mercy, called for by Pope Francis, invites us to seek forgiveness and find peace through the miracle of God's infinite and inexplicable mercy."
While the bishops lament the anniversary of the Roe vs. Wade decision, they are also encouraged by the commemoration of the 450th anniversary of the founding of St. Augustine, Florida, and the establishment of our nation's earliest Catholic parish. The bishops note, "In these last four and a half centuries, our faith has served as witness to the Good News of Jesus Christ through the greatest of adversities."
The full text of the Statement of the Catholic Bishops of Florida on the 43rd Anniversary of Roe v. Wade is available online in English and Spanish.
---
 Parish Resources to Observe the 43rd Anniversary of Roe v. Wade