Announcements ~ April 11, 2022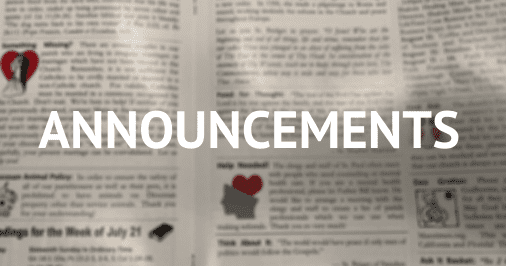 DIOCESAN OFFICES
2021 APA Annual Report
More than 22,000 generous donors provided more than $9 million in support of more than 50 diocesan ministries and services through the 2021 Annual Pastoral Appeal (APA). Their donations support larger ministry and outreach throughout the Diocese of St. Petersburg.  All are invited to visit dosp.org/2021-annual-report to view the online version of the 2021 APA Annual Report, download a printable version, see impact numbers, see short ministry videos and learn more about how the Diocese of St. Petersburg is Courageously Living the Gospel thanks to our donors.  To request a print version of the report, please email your request to stewardship@dosp.org.
---
Healing Mass for Survivors of Abuse, Saturday, April 23, 2022
Bishop Parkes will celebrate a Mass of Healing for those who seek spiritual healing from abuse in all forms, including sexual, spiritual, physical or emotional, and those who wish to pray for victims/survivors of abuse, their family and friends. The Mass will be held on Saturday, April 23, 11:00 a.m., at the Cathedral of St. Jude the Apostle, St. Petersburg.  The community is invited to participate.
Opportunities for prayer with a priest or conversation with our Victim Assistance Coordinator, Mr. John Lambert, L.C.S.W., will be available following the Mass.
The Mass of Healing for Survivors of Abuse will be livestreamed at:
Editors: Please find a promotional graphic here.
---
From the Office of Youth and Young Adult Ministry 
Camp Mary Help
Camp Mary Help is a distinctly Catholic camp that is rooted in faith and provides children with an enjoyable amount of summer fun! Camp Mary Help is open for seven weeks and is designed for children ages 5 to 15, with age-appropriate schedules and activities tailored for each group. Campers enjoy days filled with various water activities, nature exploration, sports, cooking, and much more!
Camp Mary Help provides campers with daily Faith Formation, which comes alive through daily Mass and faith-filled activities and challenges. The backdrop for Camp Mary Help is the 140-acre campus of Mary Help of Christians Center, located in Tampa. Join us this summer as faith and fun come together! More information at this link:  www.mhctampa.org/summer-camp

.



Brochure at this link:  https://tinyurl.com/2ytkava3.
Booklet at this link:  https://tinyurl.com/2p9chyaf.
---
Catholic Campaign for Human Development, Creating on the Margins Art Contest
The Office of Life, Justice and Advocacy is pleased to announce the local winner of our 2021/22 Catholic Campaign for Human Development, Creating on the Margins Art Contest. Our Diocesan winner is Catherine Murphy, an 8th grade student from St. Stephen Catholic School. Catherine's drawing has been sent to the U.S. Conference of Catholic Bishops for national judging. Thank you to Catherine and to St. Stephen Catholic School for their annual participation in this contest.

PARISHES AND ORGANIZATIONS
Vatican Exhibit of Sacred Relics to Visit Florida in May
An extraordinary exhibit of relics of the saints will be touring the dioceses of Florida for the month of May. Locally, the relics will be display at St. Theresa Catholic Church, 1107 Commercial Way, Spring Hill, on Sunday, May 8, 2022, beginning at 6:30 p.m.  Father Carlos Martins, a Vatican-appointed expert on relics, will be here with a Vatican collection of over 160 relics, some as old as 2,000 years.  Among the treasures will be relics of the Apostles, St. Mary Magdalene, St. Joseph, St. Maria Goretti, St. Therese of Lisieux, and others.   You are encouraged to bring your articles of devotion (such as rosaries, holy cards, etc.) and pictures of ill friends/family members, which you will be able to touch to the reliquaries as a means of intercession.  Please spread the word! 
For a complete list of relics on display and a full schedule of the Florida display sites, please visit www.TreasuresOfTheChurch.com.
---
The Relics of St. Bernadette Visit the U.S. for First Time
From April to August 2022, the relics of Saint Bernadette will bring the grace of Lourdes to parishes across the country. Our Lady of Lourdes Parish, 750 San Salvador Drive, in Dunedin, will be hosting the Relics from April 23-25 and is the third stop on the U.S. tour, after the Relics arrive in Miami! The Sanctuary of Our Lady of Lourdes is organizing the pilgrimage of the relics in partnership with the USCCB, North American Volunteers, Hospitalité of Miami, and the Order of Malta.
Visit https://ourladydunedin.org/relics-of-saint-bernadette/ for details.
PILGRIMAGES AROUND THE DIOCESE
Parish Pilgrimages
If your parish is offering a pilgrimage within the coming months, we invite you to share this information with the Pastoral Bulletin: pastoralbulletin@dosp.org.  This allows readers to view opportunities to participate in an upcoming pilgrimage.  The pilgrimages are posted in the Diocesan website under the Pastoral Bulletin page at this link: https://www.dosp.org/pastoralbulletin/pilgrimages/.