Announcements ~ August 22, 2022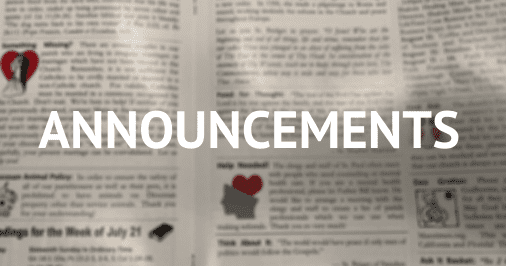 DIOCESAN OFFICES
From the Life, Justice and Advocacy Office
Statewide Culture of Life Conference
October 14-15, 2022
Bethany Retreat Center, 18150 Bethany Center, Lutz
You are invited to attend the 2022 Florida Culture of Life Conference hosted by the Diocese of St. Petersburg and the Florida Catholic Conference. The conference will provide an in-depth look at how Christ calls His Church to holistically care for His people, especially the most vulnerable. This is an excellent opportunity to learn about the important issues facing our culture and our Church and discover ways to make a positive difference. 
Visit www.dosp.org/culture-of-life-conference to learn more and register before the October 1st deadline.
Promotional materials found here: Flyer (PNG), Flyer (PDF), Facebook Post
Gender Ideology and Youth: A Catholic Response
Friday, October 14, 2022, 6:15 p.m.-9:00 p.m.
Bethany Retreat Center, 18150 Bethany Center, Lutz
How do we respond to Gender Ideology in a way that recognizes the God-given physical reality of being created male or female while also respecting the human dignity of those who struggle with gender dysphoria? In a special presentation by the Florida Catholic Conference, speakers will address how Catholics can provide a solid anthropological and scientific response, especially in cases or environments where youth are influenced or affected by these issues.
Visit https://s.dosp.org/3C1rcbh to learn more and to register for this free event before the deadline, October 1st.
Promotional materials found here: Flyer (PNG), Flyer (PDF), Facebook Post
---
Did You Know? Safety Rules Bear Repeating
Research reminds us that teaching children how to resist the overtures of a potential molester requires repetition and reinforcement. Children and young people need to know the rules, and they need to hear them over and over and over again so that the rules become part of a thought process. This is done in the same way we teach the rules about looking both ways before crossing the street and the danger of getting too close to an open flame. Empowering children to speak up and resist the overtures of potential molesters can stop a child molester in his or her tracks. Molesters who fear being caught—and being labeled a molester—may decide it is not worth the risk and back off.
For particular help you may call: Michael Craig, Safe Environment Program Manager at (727) 344-1611, ext. 5377.
---
Prison Ministry in Pinellas County
We are happy to report that Pinellas County Jail has opened their doors to begin Catholic services again. The services will take place on Saturday mornings. If you have an interest in this ministry, whether serving in the past or as a new volunteer, please contact the Prison Ministry office at prisonmn@dosp.org, so we can begin the approval process through the Sheriff's Office. 
To find out more about prison ministry, please go to our website Office of Prison Ministry – Diocese of Saint Petersburg (https://www.dosp.org/prison/).
---
Vocation Summit:  A Parish Vocation Ministry Workshop

Parish/school staff and volunteers are invited to join us for this workshop as we continue to learn how to better promote and foster vocations in our faith communities.  We will be gathering at the Bethany Center on September 24th, 2022 from 8:30 am – 3:00 pm. Lunch will be provided as well as presentations by Sam Alzheimer of Vianney Vocations.  Please RSVP by September 9th, 2022.
RSVP here:  https://dospvocations.org/events/vocation-summit/.
..
PARISHES AND ORGANIZATIONS
Men's Resurrection Experience
Resurrection Catholic Church, Riverview, invites you to join them for the 2022 Men's Resurrection Experience:  A Catholic Weekend Retreat for Men.  The event will take place from Friday, November 11th through Sunday, November 13th at Bethany Center, 18150 Bethany Center Dr, Lutz.
Guest Speaker:  Lloyd Greenhaw from Grace & Renewal Ministries
The experience begins Friday at 7:00 pm and concludes with Mass on Sunday at 2:00 pm.  Cost is $195 for the three days – two nights retreat weekend and includes accommodations and meals.  Single room available for $370.  To register call Al Larson at 813-230-9152 or by Email: Alarson1@tampabay.rr.com.
Flyer at this link:  https://tinyurl.com/2efssfnz.
---
Sacred Heart to Host Special Presentation on the Shroud of Turin
Join your fellow parishioners and visitors from around the diocese on Tuesday, September 13, at 6:30 p.m. at Sacred Heart Tampa's North Campus (3515 N Florida Ave.) for a special presentation about the Shroud of Turin, featuring Shroud Science Group member Dr. Wayne Phillips.
A Vatican-recognized authority on the Shroud of Turin, Dr. Wayne Phillips will provide an in-depth look at the history and study of the Shroud of Turin, believed to be the burial covering adorned to Jesus Christ when He was laid to rest following His crucifixion. The Shroud has a complicated and multifaceted history, which will be discussed in this hour-long presentation, ending with a Q&A. The event is free and open to all, but seating is limited and will fill up fast.  Reserve your seats now at shfla.org/shroud2022.
---
Pinellas Women's Emmaus Retreat
October 14–16, 2022
Are you ready for a weekend of Spiritual Renewal? Then walk the road to Emmaus with us. The retreat is based on Luke 24:13-35. Deepen your relationship with the Lord away from the distractions of daily routine.
The retreat takes place at the Franciscan Center. Cost of the retreat is $225.00/$275.00 (single/double occupancy) and includes room, meals, and program.
For registration and/or information, please contact Maria Athanasulis: 727-439-9300 or maria.athanasulis@gmail.com.
Graphic for bulletin available at this link.
PILGRIMAGES AROUND THE DIOCESE
Parish Pilgrimages If your parish is offering a pilgrimage within the coming months, we invite you to share this information with the Pastoral Bulletin: pastoralbulletin@dosp.org.  This allows readers to view opportunities to participate in an upcoming pilgrimage.  The pilgrimages are posted in the Diocesan website under the Pastoral Bulletin page at this link: https://www.dosp.org/pastoralbulletin/pilgrimages/.