Announcements – December 21, 2020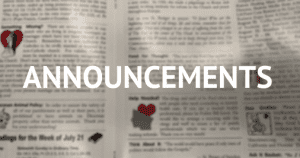 DIOCESAN OFFICES
Office of Communications
New Video: Year in Review
The Diocese of Petersburg invites you to take a look back at this unforgettable year and thank God for the grace to stand firm in the faith, courageous and strong. We've produced a video with some of the most compelling photos of 2020. To view the video, go to www.youtube.com/dioceseofstpete. To view the top news stories of 2020, visit www.dosp.org/news.
A New Year's Resolution!
To help you plan, pray and proclaim the Good News, watch the YouTube series, Catholic Planner with Father Connor Penn, each Friday. He brings a fresh perspective to the Church's calendar of feasts and celebrations. To view and subscribe, visit www.youtube.com/dioceseofstpete and click on the Catholic Planner Playlist.
(Editors: Download a promotional graphic here.)
Office of Stewardship & Development
Parish Resources for End-of-Year and Beyond
Did you know that all charitable contributions made by year-end 2020 are 100% tax-deductible up to the amount of an individual's Adjusted Gross Income? In addition, gifts to qualified charities result in a $300 deduction for single filers and a $600 deduction for married filers, whether itemizing or not. For more information, please go to https://catholicfoundation.org/parish-resources/.