2020 Highlight Video Captures Memorable Year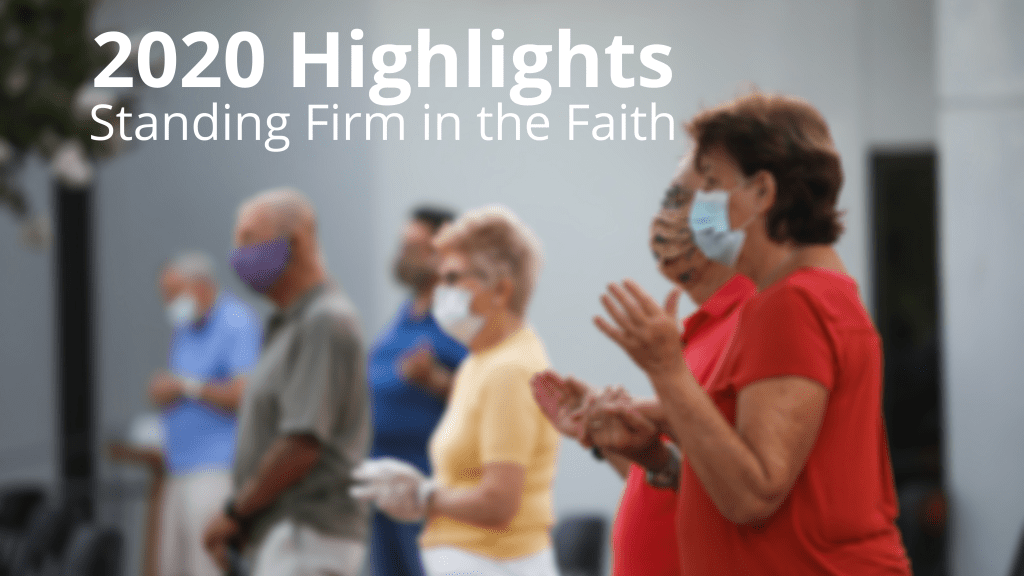 As 2020 comes to a close, the Diocese of St. Petersburg is taking a look back at this tumultuous year and thanking God for the grace to stand firm in the faith, courageous and strong. Click on video box above or here to view the video. Do you recognize the photos in the video? The stories behind the photos are found below.
Bishop Parkes shares his thoughts on 2020 in this "Year in Review" episode of A View from the Top. Listen to it here.
JANUARY
Youth Courageously Stand Up For Life
FEBRUARY
Over 300 Couples Renew Wedding Vows during Marriage Jubilee Mass
Bishop Parkes Meets with Pope Francis and Brings Back Message of Hope
Students Explore Vocations at Focus 11
MARCH
Public Masses are Temporarily Suspended in the Diocese of St. Petersburg
Catholic Charities Opens Hillsborough Hope Temporary Shelter for the Homeless
APRIL
In the Midst of Pandemic, Churches Learn to Livestream
Drive Thru Confessions Offer Mercy and Peace
The Domestic Church is Nurtured During COVID-19
Izzie Hernandez is Ordained a Permanent Deacon
Bishop Parkes Celebrates Holy Week Liturgies via Livestream and Fox 13
MAY
Pandemic Moves Marian Congress Online and Highlights Need for Prayer
Public Masses to Resume in the Diocese of St. Petersburg
Sunday Mass for the Public to Resume May 30-31, 2020 in the Diocese of St. Petersburg
First Chance to Receive Eucharist Leaves Some in Tears
JUNE
Outpouring of Support at the Prayer Vigil for Peace, Healing and Change
Community Reacts with Joy and Tears to the News about Bishop-Elect David Toups
Eighteen People Graduate from Lay Pastoral Ministry Institute
Good Samaritan Project Goes Virtual
JULY
Diocesan Wide Rosary For An End to the Pandemic Livestream
AUGUST
New Catholics Welcomed into the Church
Oldest Serving Priest in Florida, Monsignor George Cummings, Leaves an Important Legacy
After Three Month Delay, Father Joshua Bertrand, Father Connor Penn, and Father Drew Woodke Were Ordained to the Priesthood by Bishop Gregory Parkes
Catholic Schools Return to In-Person Learning
SEPTEMBER
Diocese of St. Petersburg Sends Relief Money to Hurricane Laura Victims
Priests Minister to the Sick and Offer Healing Love of Christ
OCTOBER
Catholics Unite to Pray for Life Next to Abortion Facility
Local Pastors Participate in "Know Truth, Know Faith" A Series of Courageous Conversations about Race Relations
The Annual Hispanic Mass is Celebrated in Honor of Nuestra Señora de la Caridad del Cobre
Bishop Parkes Celebrates the White Mass in Honor of Healthcare Professionals
Four Men Reach Milestone on the Path to Being Ordained as Permanent Deacons
NOVEMBER
Affordable Housing Provides Veteran a Home for the Holidays
Tampa's Catholic Vietnamese Community Rejoices in a Spiritual Home of their Very Own
DECEMBER
Advent around the Diocese Photo Album
The Bezos Day 1 Family Fund, a charity started by Amazons' Jeff Bezos, donates $5 million dollars to help St. Vincent de Paul CARES help the homeless