Announcements ~ January 18, 2022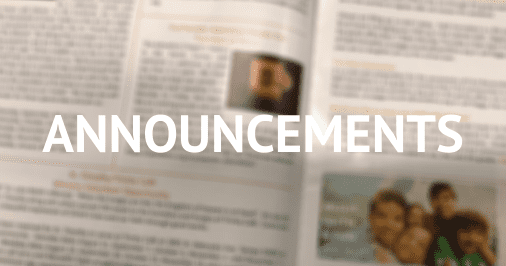 DIOCESAN OFFICES
Did You Know?
@TEOTD Are Your Kids AATK?

Do you understand the sentence above? Chances are your kids do. The Internet is a great
resource for information and fun; but like nearly everything else these days, cyberspace
brings with it its own set of challenges for parents. Parents should monitor their 
children's Internet use and become familiar with the multitude of abbreviations,
acronyms, and other shorthand that their children may be receiving via Internet chat 
rooms, instant messaging systems, and text message devices. For a searchable database of
this Internet lingo, please visit
www.virtus.org/virtus.
For particular help you may call: Michael Craig, Safe Environment Program Manager at (727) 344-1611, ext. 5377.
Source: www.virtusonline.org/virtus.
---
Fifth Encuentro Ministry Series
The purpose of the new V Encuentro Ministry Series is to provide national professional opportunities for formation in both English and Spanish via live presentations, on-demand videos, workbooks, and community for the 28 Ministerial Areas that can be found in the V Encuentro Proceeding and Conclusions.  The flyer included below provides additional information including links to the series brochure, FAQ's, live events schedule, and registration instructions.
Serie Ministerial del V Encuentro
El propósito de la nueva Serie Ministerial del V Encuentro es proveer oportunidades de formación con expertos nacionales en inglés y español a través de eventos en vivo y videos on demand, con un manual del participante y una comunidad en línea. Cubrirá las 28 áreas ministeriales que son parte de las Memorias y Conclusiones del V Encuentro.  Para obtener información adicional revisa el volante abajo incluido, el cual contiene enlaces para el folleto sobre la serie, preguntas frecuentes, calendario de eventos en vivo e instrucciones para la inscripción.
Bilingual Flyer:  https://tinyurl.com/tz75rnmx.
---
Parish Vocation Ministry Workshop
Christ the King Parish, 821 S. Dale Mabry Highway, Tampa
Saturday, January 29, 2022
8:30 am (Mass) – 4:00 pm (Lunch included.)
Parishes and schools are invited to bring teams of 3-5 representatives to join us for this workshop as we learn how to better promote and foster vocations in our faith communities.  Please contact the Office of Vocations to RSVP or to find out more information.  Ph. 727-345-3452 or by email: jp@dosp.org.
Promotional graphics available at this link:  https://www.dosp.org/parish-vocation-ministry-workshop/.
---
Spirit FM's 7th Annual Catholic Women's Conference
Please plan to join Spirit FM and over a 2,000 of your closest girlfriends from throughout the Diocese of St. Petersburg for a day of faith, friendship, food, and shopping. Our speakers are:  Sr. Rita Clare Yoches and Deby Sansone Schlapprizzi.  Tickets are on sale at www.myspiritfm.com/WomensConference or call Marci at 813.289.8040, ext. 231. 
Catholic Campaign for Human Development Multi-Media Art Contest:
Each year, the U.S. Conference of Catholic Bishops offers a Creating on the Margins arts contest to help schools and parishes engage youth in learning about the root causes of poverty and the Church's response.  All youth in Grade 7-12 are encouraged to participate. Educator packets are also available: https://www.usccb.org/committees/catholic-campaign-human-development/creating-margins.  Submissions should be directed to Sabrina Burton Schultz at the Pastoral Center no later than March 15, 2022; sab@dosp.org.

PARISHES AND ORGANIZATIONS
FASHION SHOW & LUNCHEON, Thursday, February 10, 2022
St. Brendan Council of Catholic Women will host a Fashion Show & Luncheon on Thursday, February 10, 2022 at Belleair Country Club, 1 Country Club Ln, Belleair, with fashions by Patchington.  All proceeds benefit local charities. Fabulous prizes, 50/50 and Basket raffles. Doors open at 11:00 AM.  Choose chicken, salmon or vegetarian. $40 per person. Open to the Public.  Contact Peggy Boyer at (727) 584-0065 or peggyboyer1@tampabay.rr.com for reservations. HURRY, This event sells out fast.
---
Retiro de Parejas con Padre Felipe Scott (Spanish)
La parroquia de Blessed Sacrament (7001 S. 12th Ave., Tampa) te invita al retiro de parejas "La Bendición de Nuestra Miseria Humana Cuando Nos lleva a Dios".  El mismo se llevará a cabo el viernes, 4 de febrero (5:45 pm – 9:00 pm) y sábado, 5 de febrero (8:45 am – 5:00 pm, Misa de Vigilia de domingo).
Donación: $145.00 por pareja. Por favor de comunicarse con Grisel Robles por texto o llamada al (813) 468-4283.
Más información en nuestro sitio digital:  https://blessedsacramentcatholic.org/events/.
Incluimos un volante de promoción en este enlace:   https://tinyurl.com/565jzfp3.
---
Unbound, one day retreat
St. Timothy Parish, 17512 Lakeshore Rd., Lutz, invites you to come and hear Matt Lozano explain how to experience greater freedom from the influence of evil in your life and a greater fullness of life, won for us by Christ's death and resurrection.  This one day retreat, sponsored by the Marian Servants of Divine Providence, will take place on Saturday, February 26, 2022 from 10:00 a.m. – 3:45 p.m. at St. Timothy Parish.
Registration begins at 9:40 a.m.  Optional 9:00 a.m. and 4:00 p.m. Masses.  The cost is $25.00 per person.  Bring a brown bag lunch.
More information at this link: https://tinyurl.com/yz77zvn6
Promotional Flyer at this link:  https://tinyurl.com/4pe9t4jn