Announcements ~ January 9, 2023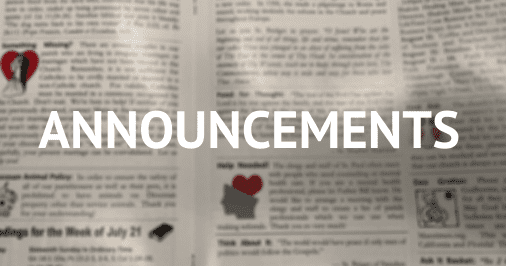 DIOCESAN OFFICES
Parish Announcement for January 15, 2023:
Dive Deeper into God's Word
To celebrate "Sunday of the Word of God" on January 22nd, the U.S. Conference of Catholic Bishops has prepared a series of videos in English and Spanish by renowned Catholic biblical scholars. The videos will address the Bible's authorship, the canon of Scripture, a Catholic approach to reading the Bible, the practice of lectio divina, and the synoptic Gospels. You can access the videos, along with discussion guides and suggestions for further reading at Catholic.bible.
Parish Announcement for January 22, 2023:
Online Seminar on the Bible
Today is "Sunday of the Word of God," established by Pope Francis to "enable the Church to experience anew how the risen Lord opens up for us the treasury of his Word and enables us to proclaim its unfathomable riches before the world" (Aperuit illis, no. 2). Celebrate this day by viewing the Sunday Seminar Series, an enriching opportunity for you to learn more about Sacred Scripture from some of the best Catholic Bible scholars in the United States. You can access the videos, along with discussion guides and suggestions for further reading at: Catholic.bible.
---
Office of Marriage and Family Life

Marriage Jubilee Mass of Thanksgiving
The Marriage Jubilee Mass of Thanksgiving will take place at the Cathedral of St. Jude the Apostle on Sunday, February 12th at 3:00 pm.  This event honors couples throughout the diocese who will celebrate their 25th anniversary as well as those celebrating 50 or more years of marriage during the 2023 calendar year.  Please RSVP with our parish office by Tuesday, January 17th.
PARISHES/ORGANIZATIONS
Unbound Freedom in Christ Conference
Join Neal and Janet Lozano on February 10 and 11, 2023, for the Unbound Freedom in Christ Conference at St. Timothy Catholic Church.  At the conference you will receive insightful teachings on the Unbound prayer model, opportunity for personal prayer ministry, praise and worship and much more.  Learn to cooperate with God as he sets you free from the things that keep you bound like anger, unforgiveness, anxiety, fear and loneliness.
For more information and/or to register visit sainttims.org/Unbound.
Flyer available at this link:  shorturl.at/wEKL6.
---
Winter Concert Series
The 2023 Winter Concert Series at Saint Mary, Our Lady of Grace in Saint Petersburg, continues on Sunday, January 22, 2023 at 3:00 PM with a concert of Operatic and Musical Theater favorites.
Professional singers (and married to each other) Christopher and Linda Holloway will dazzle with their vocal brilliance and stage personality!
This one-hour concert is free and open to all.  The church is located at 515 4th St S., St. Petersburg, FL 33701.  For more information call Michelle Rego at 727-896-2191 Ext 208.
---
Majesty of Rock: The Music of Journey
Majesty of Rock re-creates the exact sounds and nuances of the super group, Journey, paying special homage to their best years ('77-'98).  Performing at the Conmy Center at Our Lady of Lourdes in Dunedin on Friday, January 20th at 7pm. General admission tickets are $25 and can be purchased at www.conmycenter.com.
---
Holy Family Parish – Hand In Hand With Haiti Twinning Committee
On Saturday, January 28th, from 5:30 – 9:00 PM, Holy Family Parish will celebrate 15 years of twinning as we have our annual fundraiser for our sister parish, St. Gabriel in Beau Sejour, Haiti.  The money raised through donations will go to support St. Gabriel Parish and the parish Medical Clinic.  Refreshments, appetizers, and dinner are being prepared by parishioner Dave DeRose.  Hear from Father Jude, the pastor at St. Gabriel parish, and Dr. Roosvelt, a Haitian doctor who makes regular visits to St. Gabriel's medical clinic for our parish.  This dinner will be held in Diffley Hall at Holy Family Parish, 200 78th Ave. NE, St. Pete 33703.   All are welcome.  Please RSVP to the church office if planning to attend, no later than January 24th by calling, 727-526-5783 or visit our website at www.hfcsp.org.
---
Family Retreat / Retiro para la Familia "2023″ with Fr. Felipe (Philip) Scott
Blessed Sacrament Parish, 7001 S. 12th Ave., Tampa, invites you to a family retreat with Fr. Philip Scott.  We will have two sessions as follows:
Español:  Viernes, 17 de febrero; 6:00 p.m. a 9:00 p.m.  y sábado, 18 de febrero; 9:00 a.m. a 5:00 p.m. (almuerzo incluido)
English:  Friday, February 24; 6:00 p.m. to 9:00 p.m. and Saturday, February 25; 9:00 a.m. to 5:00 p.m. (lunch included)
Cost is $45.00 per person/por persona.  (minimum age 20 years), (minimo 20 años de edad)
All proceeds to benefit Blessed Sacrament Catholic Church.
Todos los fondos serán para beneficio de Blessed Sacrament Catholic Church.
Contact / Comunicarse: Grisel Robles (813) 468-4283      Payment / Pago: CashApp, Zelle, cash /efectivo, cheque/check
Flyer at this link:  shorturl.at/uzBDN.
PILGRIMAGES AROUND THE DIOCESE

Parish Pilgrimages
If your parish is offering a pilgrimage within the coming months, we invite you to share this information with the Pastoral Bulletin: pastoralbulletin@dosp.org.  This allows readers to view opportunities to participate in an upcoming pilgrimage.  The pilgrimages are posted in the Diocesan website under the Pastoral Bulletin page at this link: https://www.dosp.org/pastoralbulletin/pilgrimages/.