Announcements ~ March 25, 2019
DIOCESAN OFFICES
Have You Heard the Bishop's Podcast?
Join Bishop Gregory Parkes for A View From The Top, a radio program that provides a candid and hopeful conversation on current events that affect our Church, our community and our country. A new episode on Holy Week and Easter can be heard on Friday, April 12 at 11:30 a.m. on Spirit FM 90.5. Also, you can subscribe to the bishop's podcast on iTunes. Search A View from the Top.
(An ad for A View from the Top is available here as a PDF or PNG.)
---
All Are Invited to the Diocese of St. Petersburg's First Annual Marian Congress
In an effort to lead all people closer to the Heart of Jesus, a Marian Congress will be held on Saturday, May 11 that will include witness talks, Exposition of the Blessed Sacrament, Rosary and Mass with Renewal of Consecration.
The theme "Take Mary Into Our Hearts and Homes" was chosen because Mary's love and maternal care can transform our lives and bless our families.
Location: Cathedral of St. Jude the Apostle (5815 5th Ave N, St. Petersburg)
Date: Saturday, May 11, 2019
Time: 9:00 a.m. – 5:00 p.m., Mass of Renewal Begins at 4:00 p.m.
For more information, visit:  www.dosp.org/heartofmary/. This event is held in cooperation with the International Consecrated Marian Society.   Graphic at this link:  https://bit.ly/2THWpqh.
---
From the Office of Marriage and Family Life
Please consider adding the flyer at this link to your bulletin during the season of Lent.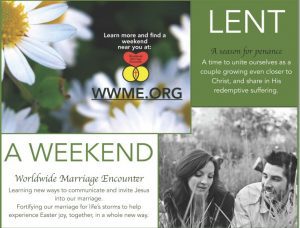 PARISHES AND ORGANIZATIONS
New College Scholarships Introduced for Catholic High School Students
Saint Leo University (www.saintleo.edu) is introducing substantial tuition scholarships for students from Florida Catholic high schools. The $14,000 Catholic Promise Scholarship is renewable for four years. Admitted students will study at the main campus, about 35 miles north of Tampa. Students must be Florida residents. A special Open House that incorporates Mass is planned for Sunday, April 7, for applicants, families, and counselors. More details are available by calling (352) 588-8253.
---
Save the Date: Saturday, April 13, 2019, Walk/Run For Life 2019 Tampa Bay
Ben T. Davis Beach
7740 W. Courtney Campbell Causeway
Keep the March for Life momentum going and take part in this annual pro-life event that benefits the Foundations of Life Pregnancy Center and other ministries that support women in crisis pregnancies and women and families who have been harmed by an abortion. Participants can choose between 1 mile, 2 miles or 5K route.
Email: foundationsoflife@ccdosp.org  or Register Online at: FoundationsofLife.org.
---
Rejoice & Remember
September 28, 2019 from 10:00 am to Noon
Rejoice & Remember is an interfaith prayer service for recipients of organ transplants and in memory of organ donors. The service will be held September 28, 2019 at 10:00 am at St. Michael the Archangel Roman Catholic Church in Hudson, Florida. If you would like to place a memorial in their program of a loved one who was an organ donor or for further information, contact Deacon Gene Beil at deacon@saintmichaelchurch.org.
PILGRIMAGES AROUND THE DIOCESE
The pilgrimages are posted in the Diocesan website under Pilgrimages–bottom of the homepage under FAQ or by following this link: https://www.dosp.org/pastoralbulletin/pilgrimages/.